Fire Emblem Warriors: Three Hopes - The Loop
Play Sound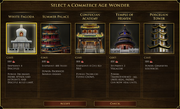 In contrast to previous titles, Wonders do not feature in Age of Empires III and The WarChiefs, but return in The Asian Dynasties as buildings exclusive to the Asian civilizations. The Chinese, Indians, and Japanese build Wonders to advance in Age. Each of the five Wonders for each civilization provides unique functions and bonuses, special abilities, or shipments.
As each Wonder can only be built once in a game, their shipments vary depending on the Age advanced, like the Tribal Council in The WarChiefs; the later the Age the Wonder is built, the better the shipment bonus provided. The cost to build a Wonder corresponds to how much the player pays to advance to the next Age. If a Wonder is destroyed while it is being built, the resources spent are refunded. The maximum number of builders for all Wonders is 8.
All Wonders have 5,000 hit points and are affected by technologies that benefit structures. The Agra Fort also counts as a defensive structure and is boosted by defense-related technologies.
Building time
[
]
Without any Villager building the Wonder, it takes 2 minutes (120 seconds) to go to the next age, except for the Fortress Age, which takes 2 minutes and 25 seconds (145 seconds). Each additional Villager tasked with building the Wonder will take some time off. The first 4 Villager will take off 10 seconds each, and the last 4 will take off 5 seconds each. For example, going from the Exploration Age to the Commerce Age with 8 Villagers building the Wonder will take
.
List of Wonders
[
]
See also
[
]