"Building a Wonder of the World demonstrates the superiority of your civilization. Constructing a Wonder that stands for a certain period of time is one way to win the game."

—Age of Empires II description
The Wonder is a civilian building in Age of Empires II that becomes available once the Imperial Age is reached. In certain game modes, the Wonder grants victory if built and defended for 200 years.
Each civilization builds a Wonder of historically relevant and unique appearance. They cannot be converted.
Tactics and placement
Edit
Wonders only serve as a victory condition, and as such they must be used only in game modes that allow that kind of victory. When a player starts to build a Wonder, every other player receives a notification with the location of the Wonder so they know where to steer their aggression.
Wonders should be placed in a well-defended area so it is better to first build up a strong fortification composed of Castles, walls, and towers, so basically perform a late-game turtling strategy. In any case, the player must be prepared to be the main focus of all enemy attacks and prepare to defend the Wonder. It is advised to have a huge army to defend against attacking armies, particularly siege units. Since the Wonder takes incredibly long to be built, it is advised to build it with as many Villagers as possible while also leave them near the area once they finish in case the Wonder needs to be repaired. In team games, the support of allies while defending is highly valuable.
It is possible (but costly) to build more than one Wonder so that if one does not stand, other Wonders can stand for the time required to win the game. In The Conquerors, if the player has multiple Wonders and one is destroyed, the timer will reset but still be displayed. Although highly unlikely, if multiple players finished their Wonder at the same time, the player in the highest slot regardless of the color wins once the countdown ends.
A Monument (an unconstructable building) can be found in the Scenario Editor and some campaigns. Its appearance varies being different for each civilization, much like the Wonder, and it has the same icon, although it merely functions as decorative. It has 9999 hit points, making it the bulkiest building in the game.
List of Wonders
Edit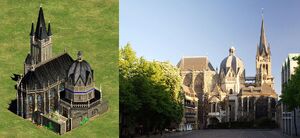 Wonder: Aachen Cathedral
Campaign appearances:
Wonder: Hagia Sophia
Campaign appearances:
Wonder: Rock of Cashel
Campaign appearances:
Wonder: Temple of Heaven
Campaign appearances:
Wonder: St. Vitus Cathedral
Campaign appearances: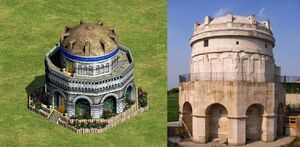 Wonder: Mausoleum of Theoderic I
Wonder: Tōdai-ji
Campaign appearances:
Wonder: Great Tent of Genghis Khan
Campaign appearances:
Wonder: Taq-i Kisra Palace
Campaign appearances:
Wonder: Great Mosque of Samarra
Campaign appearances:
Wonder: Maria Laach Abbey
Campaign appearances:
Wonder: Selimiye Mosque
Campaign appearances:
Wonder: Borgund Stave Church
Campaign appearances:
Wonder: Great Pyramid of Tenochtitlan
Campaign appearances:
Wonder: Arch of Constantine
Wonder: Hwangnyong Temple
Campaign appearances:
Wonder: Temple of the Great Jaguar
Campaign appearances:
Wonder: Torre del Oro
Campaign appearances:
Wonder: Temple of the Sun at Macchu Picchu
Campaign appearances: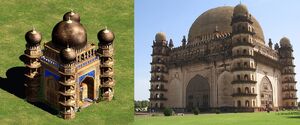 Wonder: Gol Gumbaz (in The Forgotten and The African Kingdoms)
Wonder: Brihadeeswarar Temple (since Rise of the Rajas)
Campaign appearances:
Wonder: Cathedral of St. Lawrence
Campaign appearances:
Wonder: Hunyad Castle
Wonder: Kizhi Church
Wonder: Hassan Tower
Wonder: Biete Amanuel
Wonder: Great Mosque of Djenné
Campaign appearances:
Wonder: Belém Tower
Campaign appearances:
Wonder: Shwezigon Pagoda
Campaign appearances:
Wonder: Angkor Wat
Campaign appearances:
Wonder: Kalasan Temple
Campaign appearances:
Wonder: Bút Tháp Temple
Campaign appearances:
Further statistics
Edit
Civilization bonuses
Edit
Team bonuses
Edit
Changelog
Edit
The Forgotten Edit
Rise of the Rajas Edit
"One distinguishing cultural characteristic of the great Middle Age civilizations was architecture. Buildings in Japan, Scandinavia, Britain, Constantinople, and Arabia looked quite different and employed different construction techniques. In many cases, particularly noteworthy buildings stand as icons for the building civilization, marking it for all time as a culture that achieved greatness, if only temporarily. Examples of such Middle Age cultural icons are the Cathedral at Chartres, Charlemagne's Palace, and the Hagia Sophia at Constantinople."

—Age of Empires II manual
Video overview
Edit