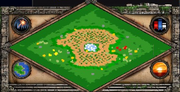 Wolf Hill is a random map in Age of Empires II: The Last Khans.
Description
[
]
Wolf Hill is a valley, surrounded by a thick forest of trees, and littered with plentiful resources, such as groves of trees, Stone Mines, Gold Mines, and huntable animals.
Players are arranged in a circular pattern, ringed around the main focus of this map: an enormous hill upon which sits the mother of all motherloads of Relics. The Relics situated on this massive central hill can be counted in the twenties and upwards. Since this hill will be the envy of each player, however, it's not without the eponymous dangers guarding it. The clumped groves of trees surrounding this hill are dotted with a large number of Wolves, and sometimes mountain lions among other hostiles, depending on the color mood of the map.
Viable strategies
[
]
Wolf Hill presents marvelous opportunities, but also massive difficulties. Given how so many Wolves are surrounding the central plateau where all of the Relics are, raiding across the mountain is nearly halted, forcing players to take a longer way around the hill to avoid trouble. The presence of these Wolves also limits a player's ability to expand, or access the Relics at the top of this hill. But there is no doubt sooner or later that everyone will be fighting over the hill, even more so after the Wolves are all killed off. Wolf Hill plays like the Gold Rush map, only the danger of the bounty in the middle hill is intensified. If a player manages to lure the Wolves with a Villager, archer or infantry they can perform the unusual "wolf rush" in a similar fashion as in the Gold Rush map (scouting early, marking the Wolf packs with palisade basements, and then lure them with a unit to the opponent's settlement).
Civilizations with the best Monks will have a significant presence in this map, and that includes the Teutons, Byzantines, Saracens, Aztecs, Spanish, and Lithuanians. Gold-hungry civilizations may benefit from being on this map too, like the Turks, Persians, and Teutons. The Magyars have the peculiar perk of killing Wolves and other hostiles in one strike, allowing them to better clear the way for over-the-hill raiding -- but other raiding civilizations have limited options for who to attack, and what path to take for said attack. Anyone who has strength in turtling will have an advantage on this map in pursuing a Relic victory, like the Teutons, Hindustanis, and Byzantines.