Winsett's Z is a cheat unit in Age of Empires. It consists of a fast sports car mounted by a person armed with a rocket launcher. The unit spawns only at the most recently built Town Center. It does not deal siege damage to buildings, but has a larger Area of Effect than the best siege weaponry, and its high damage is enough to one-hit-kill almost every target. It is also the fastest unit in the game. Since Winsett's Z does not belong to any particular category, its stats cannot be upgraded. Despite its superior stats making it incredibly hard to destroy, use it with caution, as it is vulnerable to conversion if it is left unsupervised.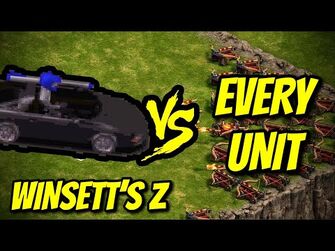 Community content is available under
CC-BY-SA
unless otherwise noted.