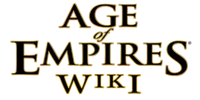 Hi, welcome to the Age of Empires Series Wiki! Thanks for your edit to the Template:Infobox British AOE3/doc page.
If you feel like improving more articles, but not sure which one you want to improve, then try the Random Page button! Also, every wiki has two list of articles that need help, called "Stubs" and "Wanted Articles". Don't be shy, be bold!
Check out the Recent Changes to see recent edits to this wiki, or visit the Forums and talk with other users!
Thanks for contributing here! Please leave a message on my talk page if I can help with anything! Narve (talk) 02:21, March 4, 2015 (UTC)
Civilization template
Edit
We can't have a separate infobox template for each civilization. All civs are supposed to use the same template.Narve (talk) 05:30, May 1, 2015 (UTC)
Please don't make the same change to loads of pages without seeking consensus first. Per the wiki's last discussion on the subject, we use the game icon when noting civilizations in infoboxes. If you want that changed, you're going to have to get consensus for it first.Narve (talk) 16:27, August 13, 2020 (UTC)
Community content is available under
CC-BY-SA
unless otherwise noted.