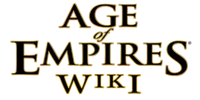 Hi, welcome to the Age of Empires Series Wiki! Thanks for your edit to the File:AOE3 Crossbowman History.png page. For guidelines on contributing, please read our Manual of Style and other related policies.
If you feel like improving more articles, but not sure which one you want to improve, then try the Random Page button! Also, every wiki has two list of articles that need help, called "Stubs" and "Wanted Articles". Don't be shy, be bold!
Check out the Recent Changes to see recent edits to this wiki, or visit the Forums and talk with other users!
Thanks for contributing to the Age of Empires Wiki. Happy Editing! Please leave a message on my talk page if I can help with anything! Narve (talk) 15:14, April 11, 2019 (UTC)
Hi! Recently, you added some images here. Thank you for that. One small thing caught my eye, though. You captioned the images (which is good) and ended the statements with periods even though they are no sentences, e.g. Puma Spearman model., which is wrong as we only use a period if there is a sentence. Please keep that in mind and leave the period (if none is needed) when you add more images. Thanks! MasterBroccoli (talk) 07:48, June 28, 2019 (UTC)
Hi Master Broccoli, thank you very much for alerting me about grammar mistakes, I do not understand much of English, but I'm trying to improve myself in English. Thanks for supporting my edits, the articles are more complete with more images. Ricky Robaina (talk) 04:42, July 9, 2019 (UTC)
Infobox layout
Edit
Hi! Recently, you made a few edits on Age of Empires III pages, specifically their infoboxes. Two notes on that from my part. Firstly, we do not use icons within texts or lines, only at the beginning (e.g. for the lines |Intro = or |Type =). So this edit was wrong. Also, we are currently establishing new universal infobox formats (e.g. Template:Infobox unit and Template:Infobox building), so when updating infoboxes please use these formats. If you don't know how, feel free to ask. Updating the old format is only of limited use as we need to update them again to the new layout. MasterBroccoli (talk) 08:16, July 15, 2019 (UTC)
Hi! I do not know how to use the new format for infoboxes, could you help me? Ricky Robaina (talk) 23:44, July 16, 2019 (UTC)
Empty space
Edit
Hello. Please be more mindful of empty space when uploading images. This image consisted mainly of empty space before I edited it (1,024 × 606 px before and 203 × 160 px after, while losing nothing of importance). Please edit the screenshot (in Paint or another program) before uploading it.Narve (talk) 06:33, August 11, 2019 (UTC)
Thanks! Ricky Robaina (talk) 19:21, November 8, 2019 (UTC)
Happy Belated Birthday!
Edit
I just noticed that your birthday was two days ago, so I wanted to give you birthday greetings. My birthday happens to be two days from now, as well. UnofficialGameExpert78 (talk) 16:12, September 25, 2019 (UTC)
AoE III unit types
Edit
Hi! I see you undid parts of an edit of mine. I don't have a problem with that, but could you explain why it is necessary to list e.g. "infantry" as a class when "ranged infantry" is already assigned? Because naturally, all ranged infantry are infantry hence making it redundant to point out, no? MasterBroccoli (talk) 20:12, November 5, 2019 (UTC)
Hello! I copied what was in the Musketeer article infobox, since the units are equivalent, I left them with the same infobox citing that they are "Ranged Infantry" and "Infantry". Ricky Robaina (talk) 19:07, November 8, 2019 (UTC)
Bring Down the Mountain
Edit
Hey, just wanted to thank you for your fixing up of Bring Down the Mountain. It's great to see that someone else was interested in AoE3 as well! Best wishes, Techhead7890 Talk Contribs 14:49, November 10, 2019 (UTC)
Hi! Thanks, I'm very interested in the Age of Empires III articles and when I notice that some need more content and fixes, I add more content and fix. Ricky Robaina (talk) 19:58, November 11, 2019 (UTC)
Community content is available under
CC-BY-SA
unless otherwise noted.