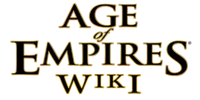 Hi, welcome to the Age of Empires Series Wiki! Thanks for your edit to the File:To finish a fleet cover.PNG page. For guidelines on contributing, please read our Manual of Style and other related policies.
If you feel like improving more articles, but not sure which one you want to improve, then try the Random Page button! Also, every wiki has two list of articles that need help, called "Stubs" and "Wanted Articles". Don't be shy, be bold!
Check out the Recent Changes to see recent edits to this wiki, or visit the Forums and talk with other users!
Thanks for contributing to the Age of Empires Wiki. Happy Editing! Please leave a message on my talk page if I can help with anything! Narve (talk) 19:16, December 10, 2017 (UTC)
Home City Cards
Edit
Yup it was a lot of work and try to see if you can recreate the same thing from the source code editor. The cards are mainly extracted from the Scenario Editor. User:Wildoneshelper/Sig 01:06, December 18, 2017 (UTC)
Elpistachio
Edit
Correct. I have never played an Age of Empires game ever. I have watched my siblings play, but that was years ago and don't remember much.
Elpistachio (talk) 06:44, December 21, 2017 (UTC)
Home City Cards
Edit
Yes you got the layout right. Some of the cards are duplicated, which means they are used across nations. I try to name the icons the same as in-game so it will be easy to find. Usually one part of the 5-part deck took me about 30 minutes so it is pretty strenuous. Thank you btw!
Thanks for giving me the advice, Mr. RadheMohan69! I really appreciate it. First of all, I'm not really an editor that much of myself, so well that's why my skill isn't as great as you did. And secondly, I only start editing from March, even then I'm not really into editing again as i used to. You however start from December last year, which of course gave you time to learn from mistakes. I sincerely hope we both got better and could learn from our mistakes.
Letter of Friendship
Saviour-X12 (talk) 11:20, December 6, 2018 (UTC)
Rollback
Edit
I've been impressed in your progress over the last year, both regarding the quality of your work and collaboration with other editors. If you want to apply for rollback rights again, you have my vote.Narve (talk) 09:54, January 6, 2019 (UTC)
Home City cards screenshots (japanese)
Edit
I also got better screenshots for Japanese Home City Cards, but lack the skills to add it properly, hope you can do it. 
Indian Home City cards Screenshots
Edit
DauHoangNguyen1999: RadheMohan69 , I managed to get higher quality screenshots of Indian Home City pages, respecting your works, I will not replacing your screenshots with these, but instead put it here, you can replace it if you want, it's up to you. 
Sure, you can certainly replace my images with ones from here, did you also extract each icon picture individually? I will replace the images soon, thanks. Radhe Mohan 22:58, January 8, 2019
DauHoangNguyen1999 Glad that you prefer it, I am not skilled in editing and can't do it by myself
Categories
Edit
Hi! Recently, you added quite a few categories to some pages here. Unfortunately, most of them were redundant. Please try to avoid redundancies as they cause avoidable cleanup work. As a ground rule and orientation for you: Categories are redundant if subcategories are already assigned. E.g. Circle of Ossus is a civilization, but the Civilizations (Age of Empires III) category is redundant because the category Circle of Ossus is a subcategory there and already assigned to the article. MasterBroccoli (talk) 10:53, May 20, 2019 (UTC)
Thanks for the feedback, I appreciate it! Radhe Mohan 22:55, May 20, 2019 (UTC)
Regarding Animal Templates in AoE III
Edit
Hi Radhe Mohan. I think it is a good idea for us to have a template for AoE III animals, which would be similar to AoE II. In that way, all games in the series would have a uniformed approach to animals and the wiki would provide more information regarding this topic.
However, I am currently not playing AoE III and because of that I won't be able to contribute much on this one. I rarely play AoE III and if you noticed, I added a few images on some campaign scenarios (Strange Alliances, if I remember correctly). 
What I would recommend is you may include information such as the animal's Hitpoints, amount of food it yields, etc..., similar to the templaes of the predecessors. -Orangecat15
Upside-down images
Edit
I asked User:Tephra about the issue. Apparently, it might have something to do with the image's orientation metadata that's no longer recognized. The best solution so far is to download the image, copy/paste it into a new image file, and overwrite the upside-down image with the new copy (this way, we won't have to edit the articles, just the files). I've submitted a bug report, so maybe wiki staff can fix the problem, so we won't have to do that manually for every affected image.Narve (talk) 18:41, July 11, 2019 (UTC)
Community content is available under
CC-BY-SA
unless otherwise noted.