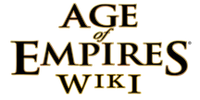 Hi, welcome to the Age of Empires Series Wiki! Thanks for your edit to the Longbowman (Age of Empires II) page. For guidelines on contributing, please read our Manual of Style and other related policies.
If you feel like improving more articles, but not sure which one you want to improve, then try the Random Page button! Also, every wiki has two list of articles that need help, called "Stubs" and "Wanted Articles". Don't be shy, be bold!
Check out the Recent Changes to see recent edits to this wiki, or visit the Forums and talk with other users!
Thanks for contributing to the Age of Empires Wiki. Happy Editing! Please leave a message on my talk page if I can help with anything! Narve (talk) 19:32, January 26, 2020 (UTC)
Civilization icons
[
]
Hi! I reverted most of your recent edits on Age of Empires II unique unit pages because you changed the icons (like here). There has been a discussion and the community did not approve of this change, so please do not change the icons on any more pages. MasterBroccoli (talk) 08:50, January 27, 2020 (UTC)
Hi! Sorry, I had no idea there was a discussion that took place. I saw that the Longbowman and unique units from the new civs used the new civilization icons, while others used the old icons. My idea was to make it universal across all units (to use the new civ icons). I think the civ icons tell way more information compared to just the expansion icons and looks cleaner in my opinion.
I also made some changes to the 2icons template in order to reflect the civilization and unique units icons, so that might need reverting as well.