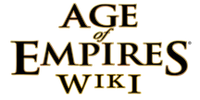 Hi, welcome to the Age of Empires Series Wiki! Thanks for your edit to the Leitis page. For guidelines on contributing, please read our Manual of Style and other related policies.
If you feel like improving more articles, but not sure which one you want to improve, then try the Random Page button! Also, every wiki has two list of articles that need help, called "Stubs" and "Wanted Articles". Don't be shy, be bold!
Check out the Recent Changes to see recent edits to this wiki, or visit the Forums and talk with other users!
Thanks for contributing to the Age of Empires Wiki. Happy Editing! Please leave a message on my talk page if I can help with anything! Papermaniac (talk) 16:12, November 17, 2019 (UTC)
Hi! Recently, you added a few images here. The images are all very helpful, however, they are all poorly named. Please give images descriptive names; I recommend you familiarize yourself with our image policy. Thanks! MasterBroccoli (talk) 16:42, December 29, 2019 (UTC)
Yes, thanks a lot for your recent contributions and for your cooperation! The images are indeed excellent. Just a small note: When writing on user pages, please remember to sign your post. You can easily do that by just typing four tildes (~~~~) at the end of your comment. That way, it is clear that it was you who commented and replying is also much easier. MasterBroccoli (talk) 14:02, December 31, 2019 (UTC)
Since you've uploaded so many excellent high-quality versions of the unit icons, I was wondering if you could upload the image for the Knight? The Fandom staff wants "an image of a person or object that represents the wiki", and I think the Knight is a good representative.Narve (talk) 12:22, January 4, 2020 (UTC)
Community content is available under
CC-BY-SA
unless otherwise noted.