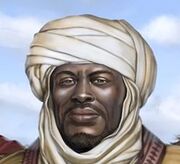 Hello, I'm from Greece, I played the Age of Empires series since I was a child (started with Age of Mythology), and in general, I love RTS games, including Rise of Nations and Company of Heroes.
I want to contribute as much as possible to this wikia, as I'm a big fan of the series and information on the Internet, concerning certain aspects of the series, are either missing or unclear and ancient. To do that, I intend to add many missing pages, such as AoM scenarios and campaign units.
To do list
Edit
As of now, my primary focus is:
stub clearance and clearance of dead links
improve the layout of pages.
more images, especially for pages that lack them
Wishlist
Edit
More DS games content, I lack the games, so I will add only what can be found via walkthroughs.
Completed missions for AOE III, as well as more Definitive Edition content, campaigns in particular.
Community content is available under
CC-BY-SA
unless otherwise noted.