In
Age of Empires II
,
Age of Empires III
and
Age of Mythology
,
unit formations
, also called
tactics
and
modes
by the games, are commands that can be issued by the player to their controlled units to change their combat behavior.
Age of Empires II Edit
Overview
Edit
In Age of Empires II and Age of Mythology, the unit formations selections are available immediately upon selecting a mobile unit.
List of formations in AoE II
Edit
Age of Mythology Edit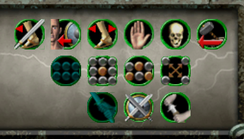 Unit formations in
Age of Mythology
generally retain the same function as they did in
Age of Empires II
. However, "staggered formation" has been renamed to "mixed formation", and "flank formation" has been replaced by "spread formation", in which the latter spreads out the units farther yet evenly spaced, rather than separating them into two far away sides in a way that flanks the enemy from two opposite directions.
Age of Empires III Edit
Overview
Edit

In Age of Empires III, unit formations must be enabled by a UI option called Show advanced unit formations. To activate a formation, the player can click on the icons when selecting the units. The player may also assign hotkeys to each of the formations.
The formations are only available to military units (excluding units such as healers, Settlers, and Envoys). Military units always have a unique formation active.
List of formations in AoE III
Edit
In trample mode, cavalry units will use a different animation, with the horse trotting instead of galloping.
In defend,cover and stand ground modes, infantry units will adopt different postures, like kneeling and raising their weapons.
See also
Edit
Community content is available under
CC-BY-SA
unless otherwise noted.