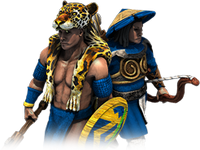 A unique unit is a unit only available to a single civilization in Age of Empires II.
Each civilization in the game has one unique unit that can only be trained at the Castle in the Castle Age, and eight civilizations have access to a second unique unit that is trained at another building.
Before Age of Empires II HD: The African Kingdoms was released, a Castle was required to train the second unique unit. Since that was changed, the civilizations with two unique units gain the advantage of instant access to a unique unit once the Castle Age is reached.
There are roughly three categories of unique units: Castle units, non-Castle units and shared units. As the name suggests, a Castle unit can only be trained at a Castle (except Huskarl, Tarkan and Konnik - see the list below), while non-Castle units are created elsewhere (Longboat, Turtle Ship, Missionary, Slinger, Imperial Camel Rider, Condottiero, and Caravel).
Shared units, however, fill a different and broader niche since their nature means that they can be used by other civilizations in addition to their own by simply allying with their native factions. A team containing an Italian, Berber, or Vietnamese player will have access to the Condottieri, Genitours, or Imperial Skirmishers, respectively. Shared unique units are team bonuses.
Apart from the Imperial Camel Rider, Condottiero, and Imperial Skirmisher, all unique units are available in the Castle Age.
All but five (Slinger, Condottiero, Imperial Camel Rider, Missionary, Imperial Skirmisher) unique units have an Elite version that possesses overall superior statistics. The upgrade is always available in the Imperial Age.
It is worth noting that the Samurai possesses an attack bonus against all unique units (including itself) but the Imperial Camel Rider and the Imperial Skirmisher, which are technically just unique upgrades. It is the only unit that has an attack bonus against unique units.
All in all, there are 48 unique units:
Note: The Goths can train Huskarls at the Barracks after researching Anarchy.
Note: The Huns can train Tarkans at the Stable after researching Marauders.
*Shared unique unit
*Shared unique unit
*Shared unique unit
The Last Khans (Definitive Edition)

[

edit

|

edit source

]
*Shared via the Cuman Mercenaries technology (Limited to 10 per player)
Community content is available under
CC-BY-SA
unless otherwise noted.