Fire Emblem Warriors: Three Hopes - The Loop
Play Sound
"
Two massive peninsulas and a small island in between. And it is this island that sparks the beginning of the battle.
"
—Map description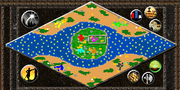 The Eye is a special random map introduced in Age of Empires II HD: The African Kingdoms.
Overview
[
]
The Eye features an island in the middle of the map and two landmasses on the north and south of the map, making an overall appearance of an eye on the mini map and giving the map its name.
Playing with eight players, four players are placed on the central island, making it very crowded. Two players are placed on every landmass. If playing teams, the players on every landmass are always allied, the island players are allied with the player right next to them, and the players placed north on the island are always allied with the players on the northern lands if there are two teams. The island is rather sparse on wood, forcing the players starting there to establish foothold on the mainland to gather wood sooner or later.
Due to the distribution of water on the map, naval dominance is absolutely crucial.
As the players starting on the island have a much harder time to comfortably establish their civilization than the other players, this map is considered unfit for free-for-all matches.
Environment
[
]
The island is of dirty terrain with small jungle forests. Overall, it is rich with Gold and Stone Mines. The water is rich with Dorado and there is Shore Fish as well. The landmasses are dirty desert terrain and feature much larger jungle forests than the island, but comparatively less Gold and Stone Mines. The players' starting positions aside, the is no fauna on the lands.
Starting resources
[
]
The following resources are found close to every player's starting Town Center and can freely be gathered at the game start. As trees as a source of wood are easily accessible on every map and hard to pinpoint to a number, they are not listed here.
Relics
[
]
5-7 Relics can be found on the map, most of which on the landmasses. The island holds one Relic, or none at all.
Similar maps
[
]
Gallery
[
]