Fire Emblem Warriors: Three Hopes - The Loop
Play Sound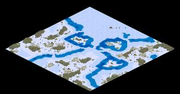 Team Glaciers is a custom map in Age of Empires II: The Age of Kings.
Description
[
]
In this frigid climate, each team of players starts out on a shared landmass, with only a single "ice bridge" connecting teams to each other. Wood is slightly scarce here, but huntables and herdables are in greater abundance. There is plenty of water, but no fish. Besides the starting units and buildings, each player has some Outposts on the outskirts of their towns.
Gold is the most plentiful resource on this map, and there are sometimes central islands on which extra gold and Relics can be found. There are a few more Wolves than usual lurking around.
Viable tactics
[
]
The addition of some outposts help players with early-game defense, so that they can more easily see what places to wall up, or catch intruders coming for them. Other than that, the map plays much like any cold-climate map, like Scandinavia, in that hunting takes a larger role in the game and persists for longer before farming or fishing becomes a more viable option for food.
Given how teams start out in a shared landmass, forming trade routes early is easier and safer. Also, defending the ice bridges between teams is an easy task, unless someone takes the loss in wood to build a Dock and a Transport Ship.
Civilizations with naval booming capabilities like the Japanese or Italians will struggle horrifically on this map, while good hunting civilizations like the Mongols or Vikings will flourish.
Gallery
[
]