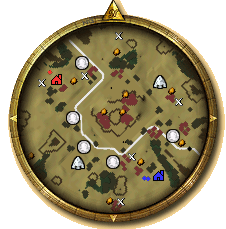 Sonora is a map in Age of Empires III.
Overview
[
]
Attention should be paid, as the minor native tribes were replaced by new ones in the expansions.
A twisting Trade Route winds its way through this barren, desolate region. Many cliffs and canyons create choke points. Resources can be difficult to find, though sometimes there are rich ore deposits in the center of the map. Search for natives villages on the edge of the map.
Players start off with several Berry Bushes near their starting position, as an early way to obtain food - however, many other resources are starved, and players must head out into the wilderness in order to find mines, herds of buffalo, and wood groves.
The map has many rock faces and canyons scattered around the map which can create interesting choke points. There is also a Trade Route with five Trading Post sites on it.
Trivia
[
]
Occasionally, the map may generate a large canyon that all players can see even if they have no units in there.
History
[
]
"
Sonora is a mountainous region in northwestern Mexico that is bordered by the Gulf of California in the west, by California and Arizona to the north, and by the Mexican states of Chihuahua and Sinaloa to the east and south. Broad expanses of cactus desert stretch throughout the region. Grassy coastal plains support cattle and heavily irrigated grain and cotton farming. The mountains have many species of cactus (and, in fact, more varieties of vegetation than any other desert on Earth) that thrive in the Sonoran desert. The most of these is the massive saguaro cactus. Roadrunners, rattlesnakes, tarantulas, and hummingbirds make their homes in this arid, hostile environment.

When they entered this mountainous desert in the early sixteenth century, the Spanish encountered the native Yaqui and others who fiercely defended their lands. The efforts of Father Eusebio Kino and other missionaries in the seventeenth century promoted European settlement in the area by converting the natives to Christianity. Father Kino promoted peaceful relations with and development of the Native Americans he encountered. While he was not particularly interested in preserving their culture, he tried to protect the Sonoran natives from exploitation and slavery by the Spanish.
"
Gallery
[
]