Fire Emblem Warriors: Three Hopes - The Loop
Play Sound
"
When enemies meet in a narrow passage through the jungle, teamwork and endurance determines who becomes the victor.
"
—Map description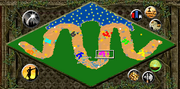 Snakepit is a special random map introduced in Age of Empires II HD: The African Kingdoms.
Overview
[
]
Snakepit is a team-based special map that places all players along a winding line of free space through a thick jungle, giving the map its name. In the north, there is always an open sea and in the south, there are a few shallows in the open. Snakepit plays fast and loose with the term 'random map' as there is not much random; every Snakepit mini map looks almost the same.
Snakepit is unfit for any game that does not feature exactly two teams because with more than two parties on the map, at least one will be squeezed in the middle and forced to fight two other parties while the players/teams placed in the edges can concentrate on the single opponent directly ahead of them.
Environment
[
]
The terrain in Snakepit is similar to multiple maps featured in the expansion. The snake-shaped path contains semi arid plains. Some Lions stray there. The forest it winds through is jungle. In the central southern part of the map, there are shallows. The sea in the north is home to Shore Fish and Dorado. Stone and Gold Mines are relatively rare which is only logical as most of the map is covered in forest and water.
Starting resources
[
]
The following resources are found close to every player's starting Town Center and can freely be gathered at the game start. As trees as a source of wood are easily accessible on every map and hard to pinpoint to a number, they are not listed here.
Relics
[
]
4-6 Relics can be found on the map along the snakepit.
Similar maps
[
]
Gallery
[
]