Fire Emblem Warriors: Three Hopes - The Loop
Play Sound
The Silk Road is a random map in Age of Mythology: Tale of the Dragon and Age of Empires III: The Asian Dynasties.
Age of Mythology: Tale of the Dragon

[

]

"
A long map where players can capture trading posts that generate resources similar to Plenty Vaults.
"
—Map description
The map has several trading posts scattered evenly which are in fact Plenty Vaults. Unlike in King of the Hill, maintaining control of a vault does not cause a player to win after a countdown, but merely provides them with a trickle of food, wood, and gold. Capturing these early on with scouts can grant a player with an economic advantage over the enemy. The location of each vault is revealed to all players. Roads terrain indicates the shortest path from one vault to another. There are some Ducks near the starting Town Centers and Deer available to hunt.
Hazards include Lizards, who will attack worker units that approach too closely. As it is a Chinese map, Jade Mines are present rather than Gold Mines, and the trees featured are Jungle Trees.
Age of Empires III: The Asian Dynasties

[

]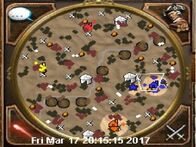 The map is based on the real Silk Road, however it randomly picks a spot along the Silk Road so that the player can play on a different part of the road every time. There are three different environment varieties: Chinese temperate forest with many Bamboos, Central Asian desert and a mountainous land, similar to the one in the Himalayas.
The Silk Road also features a unique type of Trading Post, named Silk Road Trading Site. Instead of the player having to build a Trading Post, players must first kill the guardians in order to claim them for their own and use them. The guardians will always be either 4 Blind Monks, 4 Smugglers or 4 Masterless Samurai, depending on the environment varieties.
Hidden in the coding for the map is a flat 50 XP bonus for the Ottomans. However, the unique Trading Posts on the map are only 1/3rd as effective as a normal Trade Route sites.
Outline
[
]
| | | |
| --- | --- | --- |
| " | Starting from their Markets at opposite sections of the famed Silk Road, players vie for control of this lucrative Trade Route. Since the map portrays a randomly selected part of the passage, three terrain variations are possible, each with unique characteristics. Players do not need to establish the route, only capture it before the enemy does! | " |
History
[
]
"
The Silk Road was a 4,000-mile caravan route beginning in Chang'an, China, and stretching west along the Great Wall of China, over the Pamir Mountains, across Afghanistan, and ending at the coast of the Mediterranean Sea. Used as early as 1000 BCE, the Silk Road was the most important pre-modern trade route in human history, providing merchants access to an extensive cultural and commercial network spanning China, central Asia, and Europe. Taking its name from early shipments of Chinese cloth, the road enabled a constant flow of goods, jade, gold, silver, wool, and spices from west to east, and inland to the sea.

The Silk Road came about not from a desire for extensive trade, but when Chinese Emperor Wudi of the Han Dynasty sent a court representative to central Asia to seek allies in his campaign against warring Mongolian nomads who had besieged his empire. Unfortunately, the very Mongolian nomads he was hoping to subdue captured the court representative and imprisoned him for ten years. Upon his escape, he continued to central Asia to pursue his original goal, but success eluded him. Despite this, his journey west made the people of central Asia and the Chinese aware of each other. Soon the inhabitants of central Asia sought goods from China, and vice versa. Over its 1,500 years of use, the Silk Road route reached its heyday in the thirteenth century, when the Mongol conquests encouraged trade and travel between East and West. European artisans, ambassadors, missionaries, and merchants, including Marc Polo, ventured eastward as far as China, fostering the demand for Asian goods in the West. However, this interest in foreign trade ultimately led to the route's decline. In the fifteenth century, European leaders began seeking a way to get from Europe to Asia by sea, and the discovery of South Africa's Cape of Good Hope route rendered the Silk Road obsolete.
"
Gallery
[
]