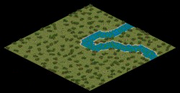 "
Based on the 4 seasons in a year, with a 25% chance of loading up a Winter map, Spring map, Summer map, or Autumn map.
"
—Map description
Seasons is a bonus map in Age of Empires II.
The map is included with patch 1.0b, Gold Edition, and HD Edition, along with the rest of the custom maps of Ensemble Studios. The filenames for all of maps begin with "ES@" to help players find them during multiplayer.
Overview
[
]
Each map has a river separating each players, however, the state of river and the land shows differently on each seasons:
Gallery
[
]
This article needs an image for it to be complete. Please locate and insert one.


See here for a full list of articles needing images.