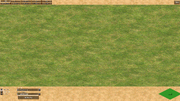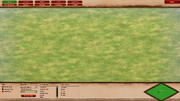 The Scenario Editor in Age of Empires II features everything its predecessor does along with newer features allowing greater customization and versatility in game design and architecture. Among the most notable features is the ability to create triggers, which enable more sophisticated gameplay.
Map
[
]
The map function is no different from its predecessor other than offering a more varied collection of random or real world maps. In addition to map size, the recommended number of players are also displayed. Map size can be either of the following:
Tiny (2 player)
Small (3 player)
Medium (4 player)
Normal (6 player)
Large (8 player)
Giant
LudiKRIS (introduced in The Forgotten)
Blank Maps
[
]
Like its predecessor, blank maps can be generated based on default terrain, with a few changes. There are 3 different terrain types for each category based on their number. Frozen terrain makes its first appearance in the series. In addition, desert is renamed to dirt. The default terrain for blank maps are the following:
Bamboo
Beach
Desert Sand
Dirt 1-3
Farm
Farm 0-67%
Farm, Dead
Forest
Grass 1-3
Grass, Foundation
Grass, Other
Ice
Ice 2
Ice, Beach
Jungle
Leaves
Oak Forest
Palm Desert
Pine Forest
Road
Road, Broken
Road, Fungus
Road, Snow
Rock 1
Shallows
Snow
Snow Dirt
Snow Grass
Snow Pine Forest
Snow, Foundation
Water 2D, Bridge
Water 2D, Shoreline
Water, Deep
Water, Medium
Water, Shallow
The HD expansion introduces new blank maps and terrain that are moddable;
Moddable Beach 90-91
Moddable Deep Water 99
Moddable Land 70-89
Moddable Shallow Water 95-96
Moddable Walkable Shallows 1-3
Moddable Water 97-98
The African Kingdoms expansion introduces new blank maps and terrain:
Acacia Forest
Baobab Forest
Black
Desert, Cracked
Dirt 4
Dragon Tree Forest
Moorland
Quicksand
Road, Desert
Savannah
Random Maps
[
]
Random maps are more varied in terrain and some feature more realistic topography. The following random maps that can be generated are:
Terrain
[
]
There are more varied terrain types compared to its predecessor as aforementioned. The following terrain includes:
Bamboo
Beach (wet, gravel, rock)
Birch Forest
Desert
Dirt (1-3)
Forest
Grass (1-3)
Ice
Jungle
Leaves
Oak forest
Palm desert
Pine forest
Road (paved, broken, and fungus)
Shallows
Snow (pure, dirt, grass, pine forest)
Swamp (bogland)
Water (deep, deep ocean, medium, shallow)
Besides including more varied terrain, this tab features an additional ability to copy or erase units and buildings in a larger area by using the copy map function. This "map-copy" feature enables the player to copy certain objects and patch of terrain into another area. This can also be used to erase objects or terrain on the map in a similar fashion by copying a blank section of the map. This also enables the player to make contraptions of buildings that looks like a huge, custom building, very popular with designers that concentrate on the aesthetics of their map.
The Definitive Edition introduced a feature for 'terrain layering'. This is a simple checkbox that lets map makers combine two different types of terrain in the same map squares, which greatly increases the variety of terrains that are possible to feature in game maps. Note that some terrain combinations look very different depending on which terrain is the base and which is the layer (e.g. Ice layered over Black looks very different from Black layered over Ice).
Players
[
]
This tab has not changed much compared to its predecessor. The most important addition is having the option to change the population limit for each player. However, the default personality is more limited compared to its predecessor with only two options.
Units
[
]
The "units" tab has been edited so that there now are smaller tabs that ease navigation. There are 4 tabs and these include Units (standard, usually in-game soldiers), Buildings (standard, usually in-game buildings), Heroes (Heroes, usually from the campaigns, but also others) and Other (Miscellaneous objects like flags etc.). Military units controlled by the computer do not distribute themselves evenly across the map in default settings compared to the previous edition. If too many units are placed on the map, the game may lag which may vary depending on the amount of units placed and the performance of the player's operating computer. Placing too many buildings, especially towers, may also cause this problem although to a lesser extent.
Scenario Editor units
[
]
The following units are only available in the Scenario Editor and campaign scenarios:
Scenario editor buildings
[
]
Unconstructable buildings can only be placed when a map is created in the Scenario Editor and are not available in random map games.
Diplomacy
[
]
Like the previous version, this tab allows the player to adjust diplomatic relations for each player. Under default settings, computer players are more likely to randomly change diplomatic stance of the user from enemy to neutral the more computer players are on the map. Besides the additional ability to change diplomacy using special triggers, not much has changed.
Global Victory
[
]
Like the previous edition, this tab serves to determine how the overall game should be played. Gameplay can be set to standard, conquest, score with or without the time limit or using custom settings. If custom win or lose conditions are set for each player and the box is checked, then fulfilling that condition ends the game.
Options
[
]
This tab is no different from its predecessor, allowing the player to disable the creation or development of certain units, buildings or technologies. Full tech tree can be checked for each player as well as the difficulty of the scenario. The player's starting view can also be changed under this tab.
Messages
[
]
This tab serves a similar function to the previous game in that it offers the player to create and edit crucial background information about the scenario which is always presented before the game starts if available. Sections include scenario instructions, hints and information from scouts and spies, victory and loss conditions as well as history.
Cinematics
[
]
Like the previous edition, this tab is optional and provides the player to insert a short video clip related to the scenario both before and after the game based on whether the player successfully completed the scenario. To perform this action, the video file must be present in the "data" folder of the "Age of Empires II" folder.
Triggers
[
]
Main article: Trigger
This feature enables the player to create and activate a variety of effects once certain conditions are meet. Triggers can be used to enhance scenarios and simulate many genres, e.g. Defend-the-Spot, Role-playing games and Fixed Force effectively. If used creatively, triggers can be used to create objects that can be found nowhere else in the game. The Definitive Edition has the added ability to copy and paste triggers, making scenario editing quicker.