Revolution
is a feature available in the
Age of Empires III: The WarChiefs
. It allows European civilizations to revolt from their home country and form a new political entity with additional unit types and specific bonuses which greatly boosts the civilization's military at the cost of being unable to advance into the
Imperial Age
and halting their economy.
Overview
Edit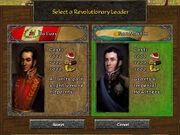 Revolting allows a choice of one of two revolutionary leaders per European civilization with different bonuses (see below), and is a much cheaper and faster option than advancing into the Imperial Age (that costs 4,000 food and 4,000 coin, and takes 90 seconds).
Once Revolution is researched:
The player's Home City flag changes to the flag of the relevant new country, and their deck will also change to a Revolution Deck (see Choices).
All Home City shipments on their way are canceled and the shipment(s) used are refunded.
All Settlers (including Coureurs des Bois and Settler Wagons) turn into Colonial Militia; Settler(s) being trained are canceled with their Food costs refunded, and any Settler(s) or their equivalents rescued from Treasures turn into Colonial Militia. Therefore, any buildings being constructed (except by wagons) will be left incomplete.
Town Center build limit is automatically increased to 10 and, along with Houses/Manors, are no longer needed to support population.
As Revolution is not counted as an Age, all units that are automatically upgraded in every Age (Explorer, War Dog, Explorer Dog, Spahi, Spy, Petard, etc.) will not be upgraded when the player revolts.
Even though a revolting player no longer has Settlers to gather resources, they still can keep a small economy going through the following:
Only one player may revolt in a game; after someone revolts, all other players (including teammates) won't be able revolt themselves, but they can still advance to the Imperial Age.
Features
Edit
Colonial Militia: Solid general-purpose infantry. Good against cavalry.
Gatling Gun: Early automatic-fire weapon. Better against infantry than buildings.
Ironclad: Ironclad. Advanced armored warship.
Revolution Deck
Edit
All of the listed Home City Cards can be sent an INFINITE number of times.
Strategy
Edit
Community content is available under
CC-BY-SA
unless otherwise noted.