Fire Emblem Warriors: Three Hopes - The Loop
Play Sound
Regicide is a random map featured in Age of Mythology: Tale of the Dragon and Age of Empires III: The Asian Dynasties. The goal is to kill the enemy Regent, whose death causes its controlling player to instantly lose.
Unlike in Age of Empires II, Regicide is not a game mode available to all maps, but a single map.
Age of Mythology

[

]
"
Kill your opponent's regent before yours meets his fate! All players start with a Fortress.
"
—Map description
In Age of Mythology, Regicide is a random map scenario where each faction must defend their Regent hero from the opponents. Every player is divided by an extended barren trench, even between allies on the same team. When there are only two players, there are additional Settlements to claim. But when there are three or more players, each player only has their starting Town Center and must defeat other players in order to build more. Each faction's territory has a particular aesthetic:
Age of Empires III

[

]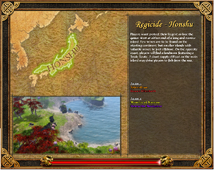 In Age of Empires III: The Asian Dynasties, the Regicide: Honshu map is the only map that features the game mode Regicide. In this mode, the player and all players start off in a small, walled fort, with a Town Center, a few military buildings, and a Regent's Castle. The Regent is usually garrisoned inside the Castle for protection. The objective is to kill all the enemy Regents and thus defeating all opponents. To accomplish this, the Regent's Castle usually has to be destroyed as well.
Trivia
[
]
Age of Mythology

[

]
Despite being unable to attack, Regents have an unused attack model/animation.
Despite the map description, the player's Fortresses, Hill Forts, Migdol Strongholds, Palaces, and Castles will not spawn.

Interestingly enough there are no references to the Fortresses in the .xs, suggesting either the idea was scrapped, or that the Forgotten Empires falsely advertised such a feature.
A similar issue is prevalent with the Overgrown Temples in Old Atlantis.

Regicide was originally intended to be a game-mode rather than a random map in early versions of Age of Mythology.
Age of Empires III

[

]
The Regent is a reused Daimyo skin, reflecting the map's setting in Japan.

Although wielding a sword, the Regent cannot fight well (dealing only 10 melee damage), likely for balance reasons.
Gallery
[
]