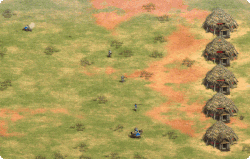 Range is the value which measures the maximum distance a unit or building can attack in each of the games in the Age of Empires series.
Overview
Edit
Range is measured in a variety of different ways depending on the game.
In Age of Empires and Age of Empires II, range measurements are based on tiles. In Age of Mythology, range is measured in feet rather than occupied space.
Note that both units and buildings may also have a minimum range meaning they cannot attack targets that are too close to them.
Units and buildings with long range
Edit
The following section shows units and buildings (fully upgraded) with the longest range in every game of the series.
Age of Empires Edit
Buildings
Edit
Age of Empires II Edit
Buildings
Edit
Age of Mythology Edit
Buildings
Edit
Age of Empires III Edit
Buildings
Edit
Community content is available under
CC-BY-SA
unless otherwise noted.