Roblox: DeepWoken - The Loop
Play Sound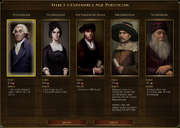 Politicians are European-exclusive dignitaries in Age of Empires III from the Home City who guide a player's colony into the next Age, similar to the Minor Gods system of Age of Mythology. Each time a player advances in Age, they must choose from a select group of politicians. Each politician delivers an assortment of resources or units once the player has finished advancing in Age. New politicians can be unlocked in each European Home City as its level increases.
Since the Exploration Age is the earliest age in the game, it does not come with a politician.
The Definitive Edition adds new politicians, marked by italics in the table below, and rebalances existing ones, as well as removing their Home City level requirements; all politicians are always available.
Age
Politician
Bonuses
Civ.

The Governor

Ships 1 Outpost Wagon and 200 coin
British
Dutch
French
Ottomans
Spanish
Swedes

The Inventor

The Explorer can use Hot Air Balloon

All

The Logistician

Outposts can train Pikemen and Longbowmen; Manors spawn Longbowmen instead of Settlers when built; grants Infantry Breastplate
British
Ships 1 Military Wagon and 1 Halberdier; Halberdiers can be trained in the Commerce Age
Dutch
Ships 1 Military Wagon and 1 Arsenal Wagon
French
Swedes
Ships 1 Arsenal Wagon; Exploration and Commerce Age Home City Cards give one additional Uhlan
Germans
Crossbowmen and Musketeers gain +1 range and can be trained at Town Centers
Portuguese
Ships 1 Military Wagon; Blockhouses support

15

population
Russians
Exploration Age Home City Cards are shipped twice as fast and also ships 200 food, 100 wood, 100 coin
Spanish

The Naturalist

Ships 2 Settlers and 2 semi-fattened Cows
British
Dutch
French
Ottomans
Portuguese
Russians
Spanish
Swedes
Ships 1 Settler Wagon and 2 semi-fattened Cows
Germans

The Philosopher Prince

Ships 500 food
British
Germans
Ottomans
Portuguese
Russians
Spanish
Swedes

The Quartermaster

Ships 400 wood
Dutch
French
Germans
Ottomans
Portuguese
Russians

The Admiral of the Ocean Sea

Ships 1 Caravel and 400 wood
British
Dutch
Knights of St. John
Portuguese
Spanish
Ships 1 Galley and 400 wood
Ottomans

The Adventurer

Ships 7 Longbowmen
British
Ships 17 Strelets
Russians
Ships 9 Crossbowmen
Spanish

The Bishop

Ships 1 Covered Wagon
British
Dutch
French
Germans
Russians
Spanish
Swedes

The Exiled Prince

Ages up 2.75 times as fast
Dutch
French
Germans
Ottomans
Portuguese
Russians
Swedes

The Gentleman Pirate

Ships 1 Privateer and 2 Barbary Corsairs
French
Germans
Russians
Swedes

The Marksman

Ships 6 Skirmishers
French
Germans
Ships 4 Abus Guns
Ottomans
Ships 6 Cassadores
Portuguese
Ships 2 Leather Cannons
Swedes

The Mercenary Contractor

The Saloon can train Harquebusiers and Jaegers
British
The Saloon can train Elmeti and Fusiliers
Dutch
The Saloon can train Barbary Corsairs and Mamelukes
Ottomans
The Saloon can train Li'l Bombards and Ronin
Portuguese
Black Riders and Jaegers can be trained respectively from Stables and Barracks
Swedes

The Mohawk Statesman

Ships 7 Haudenosaunee Tomahawks and 1 Native Scout
British
French
Portuguese

The Scout

Ships 4 Hussars
Ottomans
Spanish
Ships 5 Cossacks
Russians

The Sergeant at Arms

Ships 6 Halberdiers
Dutch
Ships 4 Doppelsoldner
Germans
Ships 8 Pikemen
Spanish

The Cavalry Marshal

Ships 9 Ruyters
Dutch
Ships 3 Cuirassiers
French
Ships 7 Uhlans
Germans
Ships 5 Hussars
Ottomans
Ships 7 Cossacks
Russians
Ships 6 Lancers
Spanish
Ships 5 Hakkapelits
Swedes

The Engineer

Ships 2 Falconets
British
French
Ottomans
Russians
Germans
Spanish
Swedes
Ships 2 Organ Guns
Portuguese

The Grand Vizier

Ships 3 Spahi
Ottomans

The King's Musketeer

Ships 10 Musketeers
British
French
Spanish
Ships 13 Musketeers
Russians
Ships 8 Skirmishers
Dutch
Portuguese
Ships 10 Caroleans
Swedes

The Logistician

Ships 1 Fort Wagon
British
Dutch
Ottomans
Russians

The Papal Guard

Upgrades Crossbowmen and Pikemen to Guard; allows Crossbowmen and Pikemen to be upgraded to Imperial
French
Germans
Upgrades Crossbowmen to Royal Guard and Pikemen to Guard; allows Crossbowmen to be upgraded to Imperial Guard and Pikemen to be upgraded to Imperial
Portuguese
Upgrades Crossbowmen to Guard and Pikemen to Royal Guard; allows Crossbowmen to be upgraded to Imperial
Spanish
Upgrades Pikemen to Royal Guard
Swedes

The Tycoon

Ships 1,000 coin
British
Dutch
French
Germans
Ottomans
Portuguese
Swedes
Ships 1 Factory Wagon
United States

The Viceroy

Ships 5 Settlers and 500 food
British
Ships 5 Settlers and 400 coin
Dutch
Ships 3 Settler Wagons and 300 wood
Germans
Ships 6 Fishing Boats and 400 wood
Portuguese

The War Minister

Ships 7 Oprichniks
Russian
Ships 12 Rodeleros
Spanish
Ships 1 Fort Wagon
United States

El Presidente

Ships 2,000 coin

All

The General

Ships 2 Heavy Cannons
Dutch
French
Germans
Portuguese
Russians
Spanish
Swedes
Ships 2 Rockets
British
Ships 2 Great Bombards
Ottomans

The Inventor

Ships an Advanced Hot Air Balloon

All

The Knight

Grants Knighthood and Peerage

The Mercenary Contractor

Outlaws and Fortress Age mercenaries get +50% hit points and attack; Industrial Age mercenaries get +35% hit points and attack
Changelog
[
]
Definitive Edition

[

]
See also
[
]