Raise a Floppa - The Loop
Play Sound
Players are designated, color-coded alignments of civilizations controlled by humans or AI in the Age of Empires series. Any units and buildings belonging to a player will share a respective color - as well as appearing as appropriately colored blips on the mini map. Players are not only a cornerstone element in the Age of Empires games, but nearly every RTS game in general. Players can either be customized before starting a game, or are predetermined when playing a scenario in a campaign. At least one enemy player must exist in a map for a game to be set in motion.
Every Age of Empires game has a non-playable, neutral player named either "Gaia" or "Mother Nature" depending on the game, that encompasses herdable and huntable animals. Units and buildings under this neutral team can also be claimed by whichever player finds them first. In Age of Mythology and Age of Empires III, only units with AutoConvert in their respective prototype files can be converted. In Age of Empires, Age of Empires II, Age of Empires III, and Age of Mythology, the player colors for Gaia are sky blue, white, brown, and yellow respectively.
The maximum amount of players that can exist in any game of the series is 8, with exception of Age of Mythology, where the maximum is 12. Depending on the settings of a game being played, or a player's diplomacy settings, players can be allied, neutral, or hostile toward each other.
The goal of any player is simple: to advance through the Ages and conquer enemy players and achieving victory. Though the conditions of winning vary upon the game's settings.
Mechanics
[
]
Basics
[
]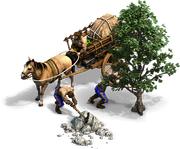 As the most basic core mechanics, players can order units to move, attack, construct buildings and garrison inside them. Players can also order the creation of units and research technologies from buildings, at the cost of resources; the more powerful the unit or technology, the more expensive it will be. Training subsequent units or technologies while one is already in progress will create a queue. Age of Empires III has an exception to this, as some units can be trained in groups. Having multiple buildings of the same type can circumvent waiting times. When the player's units begin attacking, or get attacked, the game will notify the player with an alerting sound, having the battling units' blips flash on the mini map.
Any resources gathered by Villagers will go to the stockpile of their respective players, ready to be used in production of more units and buildings. Any part of a map explored by any unit or constructed building will remain uncovered for that player for the remainder of the game, though the status of an explored area will only remain up-to-date for as long as a unit or building or present there. Depending on the settings of the game (such as the "Shared Exploration" option) and any researched technologies, allied players can see the explored areas of the other.
If enough resources are collected, the player can move forward in Age, which changes the appearance of buildings, and allows for more advanced buildings and technologies.
Civilizations and units
[
]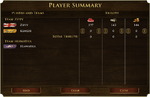 Civilization bonuses, team bonuses from other allies as well as any researched technologies, will positively affect the performance of a player by helping in them in their victory. Once a player has a built a Market, they can engage in trading one resource for another, as well as trading resources with other players, regardless of whether they are allied or hostile with each other.
Units and buildings can be converted to another player by units such as a Monk or Missionary. Conversion of a unit or building takes time, and through many upgrades, can be made easier. Some units have an innate resistance to conversion due to their team bonus and/or natural benefits, such as Scout Cavalry and Teutonic Knights.
Each building produces a specific type of unit or technology, or provides defense from enemies (such as walls and towers. Each unit has a unique set of attributes: hit points, attack strength, attack bonuses, Rate of Fire, attack/frame delay, range, accuracy, projectile speed (if ranged), melee/pierce armor, armor class, movement speed, and Line of Sight. Each unit also has their own unique strengths and weaknesses, and the player must utilize their units carefully to play to their strengths. Because of this, units are counters of one another. Units and buildings can be upgraded through technologies, turning the tide of gameplay for players if managed properly.
Team bonuses cannot be stacked, but can be combined as long as they are not exactly the same. If an allied player is defeated, resigns or breaks their alliance, the team bonus still remains. Diplomacy games where no teams are established does not provide any player with team bonuses. These bonuses are also not gained when a player becomes an ally of another in mid-gameplay.
Units can be healed by any type of healing unit (including units of an allied player), as well as being healed by garrisoning inside a building. Garrisoned buildings show a player-colored flag atop the structure. Units can also garrison inside a building owned by another player, if both sides see each other as allies. Buildings can be repaired by Villagers, at the steady cost of whichever resource was used to first construct the building. If units are garrisoned in a building capable of attacking, it may increase the damage output and defense of that building, especially if ranged units such as archers are inside.
If the building takes too much damage, units can no longer garrison inside it. Units will also be kicked out of an allied building if the player of said building suddenly changes diplomacy away from "allied". Units can also use transport units (such as Transport Ships and Rocs) to garrison inside of, to speed up the process of moving many units at once.
If the game mode, map and/or scenario allows it, players can build a Wonder, which cost an extraordinary amount of resources to construct. If the Wonder remains standing for a set time, it results in victory.
In the games Age of Mythology and Age of Empires III, some units have unique powers/abilities, but can only be used under certain conditions, or can be used anytime with the cost of having to recharge before using them again. Since the addition of the Lords of the West expansion, Age of Empires II: Definitive Edition contains some units with rechargeable abilities.
In both singleplayer and multiplayer games, players can communicate via chatting, commands, or taunts.
Selection
[
]
All units and buildings can be selected by simply clicking on them or by clicking and dragging the mouse, thus creating a bounding box over anything that is meant to be selected. Double-clicking on something will also select similar units or buildings that are shown on screen. For example, double-clicking on a War Hut will also select other War Huts that are within the player's field of view. This can greatly save time when trying to select multiple, similar things.
Holding down Shift can toggle a unit/building being added to a collection of selections. When multiple buildings of the same type are selected, training multiple units as well as selecting multiple research options will have them spread evenly between all selected buildings. For example, selecting four unit-training buildings then training twenty-two units will have two of those buildings training five of a unit, with the other two buildings training six.
Nearly every game has an option that prevents both military units and villagers being selected within the same selection bounding box.
For balance reasons, there is a limit to the amount of units that can be selected at once. The limit is different between games:
Age of Empires - 36
Age of Empires II - 60
Age of Mythology - 100
Age of Empires III - 50
Experience, shipments and treasures
[
]
Age of Empires III introduces the mechanic of gaining experience points, which can be used to send shipments from the player's Home City. Experience can be gained by performing a number of standard in-game tasks, such as collecting resources, training units, killing enemy units, finding treasures, researching some technologies, and even being generated from certain buildings over time. All players generate 2 XP per second.
When enough experience is gained, it can be used to send shipments from the Home City to a building the player specifies (which is usually the Town Center by default). The second shipment costs more than the first, and so on.
Treasures are extra resources found around the map, and must be collected by an Explorer. All treasures have Treasure Guardians defending them, which must be defeated to access the treasure. Some guardians are much stronger than others, meaning that the player must wait until their civilization is stronger before getting to them. The stronger the guardians, the better the treasure will be.
AI difficulty
[
]
Main article: Artificial intelligence
When playing against AI-controlled players, the difficulty of the AI can be chosen before starting a game. This option is available for both random maps and campaign scenarios. As expected, the higher the difficulty, the more aggressive, speedy and tactical the AI will be. Using the Scenario Editor allows users to select files that determine the playstyle of AI players.
Selecting the hardest difficulty grants the AI player free extra resources, giving them a massive advantage over human-controlled players.
Conditions and Game modes
[
]
There are various conditions that apply to players depending on the settings and chosen before starting a game. In the case of playing a campaign scenario, these settings are pre-established, with the goal being provided as objectives. In the case of a multiplayer game, the settings are chosen by the host. One of the most basic methods of obtaining victory in a game is simply to kill and destroy all of the enemy's units and buildings; if playing against an AI-controlled opponent, they may request to resign, as the losses they suffered are too great to recover from.
In a scenario, if a must-survive unit is killed, the scenario is failed and must be restarted. The same case occurs if something irreversible is done that permanently impedes an objective is completed. Playing a Regicide game is a very similar situation, as each civilization is given a King, which if he dies, the player is immediately defeated.
If a treaty is put into place, players cannot attack each other for the duration of the treaty. When there is only so much time in the treaty, or once it ends, all players will be notified of this. There do exist win conditions that do not necessarily involve the need for killing all enemy players: as mentioned before, building a Wonder or having the highest score at the end of the game (which is a game mode specific condition).
When players build a Wonder, the construction must stand for a set number of years before a victory is gained. If playing a Wonder Race game, the sole purpose of the game is to build a Wonder, as players are not allowed to attack each other in any way.
Some game modes give extra resources to all players, and/or even start them in higher ages to give them a head start in developing their empires and attacking enemies sooner.
Score
[
]
Main article: Score
Once gameplay begins, the score of all players can be seen. The factors that make up score are military, economy, technology and society. These factors can slightly alter from game to game. Such as Age of Empires having a religion sub-score, and Age of Mythology having a mythology one. A screen with the final tallying of scores is also seen once a game is completed or a player has quit.
Placement
[
]
In every Age of Empires game, there are three methods of placing players around the map at the start of a game: the first is random placing when playing a random map, in which players are generally placed evenly apart from each other. The second is the predetermined starting area for all players during a campaign scenario. The third is the player's choice of placement when using a Scenario Editor. The most common way to begin a game is players starting with Town Centers, though depending on the scenario and/or map chosen, players can "nomad" start with just units.
In Age of Empires and Age of Empires II, there is a "Team Together" option, which makes allied players spawn on the same side of the map. In the second game, there is a "Team Positions" option, which puts players in a clockwise or counter-clockwise fashion based on their player color.
Diplomacy
[
]
There are three dispositions that two players can share:
Allied - One player will never attack the other.
Neutral - A player will only attack another player's military, but never economic units or buildings unless manually instructed.
Enemy - A player will attack all units and buildings.
It is possible for player relations to be one sided, such as a player setting another player to "allied" with the other player still seeing the player as an enemy. Deals can be made with enemy players for them to change their disposition. There are even some campaign scenarios that feature alignment changes to symbolize betrayal or newfound allies, though some may involve paying tribute first.
Introduced in Age of Empires II, and also featured in Age of Empires: Definitive Edition, there is a "Locked Teams" option that can be set before a game begins, which prevents players from changing their diplomatic stances during gameplay.
Colors
[
]

The most obvious and prominent way to visually decipher which player a unit or building belongs to is what color it is. If the unit is obscured or behind something, a player-colored outline of the unit will be visible. Note that some units (such as animals) do not follow the player color scheme, but the color can still be seen through its outline (if behind a building) or its health bar (if enabled in the settings).
In Age of Mythology and Age of Empires III, player colors can also be seen in rings under selected units.
Age of Empires

[

]
| | Color |
| --- | --- |
| ████ | Sky Blue (Gaia) |
| ████ | Blue |
| ████ | Red |
| ████ | Yellow |
| ████ | Brown |
| ████ | Orange |
| ████ | Lime |
| ████ | Grey (Original) |
| ████ | Magenta (DE) |
| ████ | Cyan |
Age of Empires II

[

]
The game offers an option of "Unique Player Colors", which allows the standard use of every player color to be assigned. Unchecking this option leaves the player's color blue, enemies as red, allies as yellow and neutral units as grey. Unchecking the option can lead to possible confusion of which player belongs to which at first glance, if there are multiple allied or enemy players.
Color Blind Mode
[
]
The game offers options to compensate for those with deuteranopia, protanopia and tritanopia color blindness. If "Unique Player Colors" is unchecked, player colors for the deuteranopia and protanopia options for players, allies, enemies and neutrals will be blue, light blue, yellow and grey respectively. The same case with the trianopia option will make these colors red, pink, yellow and grey respectively.
The colors in this mode can be customized by changing values in the Color Blind Mode Colors.txt file, which is found in the install directory's Tools_Builds folder.
| | Color |
| --- | --- |
| ████ | White (Gaia) |
| ████ | Blue |
| ████ | Red |
| ████ | Green |
| ████ | Yellow |
| ████ | Cyan |
| ████ | Pink |
| ████ | Grey |
| ████ | Orange |
| ████ | Brown* |
| ████ | Light Blue* |
| ████ | Gold* |
| ████ | Pink* |
| | Deuteranopia |
| --- | --- |
| ████ | White (Gaia) |
| ████ | Blue |
| ████ | Chiffon |
| ████ | Biscay |
| ████ | Royal Blue |
| ████ | Cornflower Blue |
| ████ | Meteorite |
| ████ | Grey |
| ████ | Olive |
| ████ | Brown¹ |
| ████ | Light Blue¹ |
| ████ | Peach¹ |
| ████ | Amethyst Smoke¹ |
| | Protanopia |
| --- | --- |
| ████ | White (Gaia) |
| ████ | Blue |
| ████ | Yellow |
| ████ | Dark Slate Grey |
| ████ | Royal Blue |
| ████ | Cornflower Blue |
| ████ | Meteorite |
| ████ | Grey |
| ████ | Olive |
| ████ | Brown¹ |
| ████ | Light Blue¹ |
| ████ | Light Yellow¹ |
| ████ | Light Grey Blue¹ |
| | Tritanopia |
| --- | --- |
| ████ | White (Gaia) |
| ████ | Red |
| ████ | Cyan |
| ████ | Biscay |
| ████ | Pink |
| ████ | Blue |
| ████ | Maroon |
| ████ | Grey |
| ████ | Brown |
| ████ | Coral¹ |
| ████ | Bondi Blue¹ |
| ████ | Lavender¹ |
| ████ | Indian Red¹ |

* The player color is not available to the player nor seen in normal gameplay, but can be found in the game files.
¹ Because this color cannot be seen in the game normally, it is not officially known how it would appear in-game under the respective colorblind setting. The color chosen is the closest estimate given the type of colorblindness.
Age of Mythology

[

]
Similar to the "Unique Player Colors" option added in Age of Empires II: Definitive Edition, there is a "Friend or Foe Colors" option. When selected, it changes the player colors of the player, enemies and allies to blue, red and yellow respectively.
| | Color |
| --- | --- |
| ████ | Brown (Gaia) |
| ████ | Blue |
| ████ | Red |
| ████ | Green |
| ████ | Cyan |
| ████ | Purple |
| ████ | Yellow |
| ████ | Tawny |
| ████ | Dark Purple |
| ████ | Lime |
| ████ | Light Green |
| ████ | Dark Grey |
| ████ | Magenta |
Age of Empires III

[

]
Color

████

Brown (Gaia)

████

Blue

████

Red

████

Yellow

████

Purple

████

Green

████

Orange

████

Sky Blue

████

Pink

████

Black*

████

████

Pale Green* Dark Grey¹

████

████

Matterhorn* Light Grey¹

████

████

Magenta*
Tan¹

████

White²
* The color is not available to any player nor is it seen in normal gameplay, but can be found in the game files and the Scenario Editor.
¹ Same footnote as above, but is seen in the Definitive Edition of the game.
² The last few choices of colors in the Scenario Editor shows this, as if used as a placeholder.
Gallery
[
]
Trivia
[
]
If a map is created in a Bang Engine game's Scenario Editor with no enemy players, an instant victory will occur, due to there being no one present to defeat.

In Genie Engine era games, however, if there is open space in a user designed level, a Town Center and three Villagers (and a scout in Age of Empires II) will be placed on the map randomly.

In Age of Empires and Age of Empires II, it is possible to play Gaia-controlled units by entering the cheat "gaia" or "natural wonders" respectively.
Age of Empires III: Definitive Edition is the first game in the series to provide the player the ability to change their player color palette without modifying the files.
Age of Mythology is the only game in the series to not allow players to select their own colors.