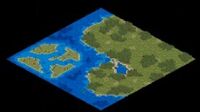 Pilgrims is a Custom Map in Age of Empires II, created by Ensemble Studios. It was originally released as a free download for The Conquerors expansion pack on the official website alongside several other maps. All of the maps have since been included with Patch 1.0c, Gold Edition and HD Edition. The filenames for all of the official Custom Maps are prefixed with "ES@" to help players find them during multiplayer.
A random map with the same concept (Vinlandsaga) is featured in Age of Mythology.
Overview
Edit
All players start on their own islets with a small amount of wood, 4 Sheep, 10 Villagers, a Lumber Camp, a Transport Ship and standard resources. As resources are extremely finite on the islets, players must migrate to the mainland as quickly as possible where resources can be found in abundance. The mainland poses its own dangers however as many Wolves can be found here and civilizations may clash over living space.
Turkeys, Deer and Wild Boars can be found on the mainland, while the surrounding waters contain plenty of fish. A navy is necessary in order to control the waterways and exploit the coastal resources.
Strategy
Edit
The Koreans increased Line of Sight can be helpful in discovering the mainland, and their Turtle Ships are ideal for establishing naval control. The Magyars ability for their villagers to kill animals in one shot is invaluable when migrating to the mainland as villagers will be able to kill the wolves safely without the need for any additional support. The naval bonuses offered by both the Japanese and the Vikings are helpful in surviving and controlling the waterways of the map.