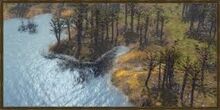 Patagonia is a random map in Age of Empires III.
It is the only map where there are no native settlements. There are two trade routes at the top and bottom of the map, each one holding three trade sites each. The eastern side of the map is filled with plentiful amounts of fish and whales. The many cliffs can allow for interesting defense setups. Trees and animals are plentiful near the shore.
There can also be a lake present on the mid-western side of the map, containing fish only. This lake is not present in free-for-all matches.
"On the southern tip of South America, Patagonia is a dry, windy plateau crisscrossed by rocky valleys and stepped shelves of land that slope down from the Andes in the west to the Atlantic Ocean in the east. Pumas (cougars) and humans are the dominant predators of the region, though there are a number of smaller predators, including red and gray foxes and predatory birds.

Plant species vary from grasses and small, hardy shrubs on the plains to evergreen pines and hardwoods on the mountainous slopes of the Andes. The Tehuelches are a native people of Patagonia, rumored by many early European explorers to be giants. They are, in fact, a tall people with the southern Tehuelches generally taller than the northern Tueheulches. All of these sturdy people were probably taller than the Europeans, whose average height in the centuries they first encountered the Tehuelches was several inches shorter than it is today."