Raise a Floppa - The Loop
Play Sound
Oasis is a random map in Age of Empires II, Age of Mythology and Age of Empires IV. The map focuses on an central water area surrounded by a thick palm forest, with niche resources, and a vast desert surrounding it.
Age of Empires II
[
]
Description
[
]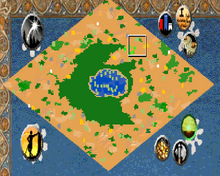 The Age of Empires II version consists of a map containing a single, large waterhole in the center of the map, with a gigantic palm tree forest surrounding it. In the current state of the game, the central lake lacks Fish; however, in older versions of the game Fish are present in the lake.
Trees are limited outside the central area, but extremely plentiful in the center. This map is highly asymmetrical, as some areas are less forested than others.
Start-up resources for each players are the standard ones (8 Sheep nearby, 2 Boars, 6 Berry Bushes, a herd of 3-4 Deer and normal piles of stone and gold); however, additional Sheep can be found in groups of three all around the map. Wild beasts can also be found, sometimes alone and sometimes in pairs, in regular numbers. The number of Relics is normal and varies with map size, and sometimes Relics are generated on the shores of the central lake. Gold and Stone Mines come in normal numbers evenly distributed along the map (except in the central forest). Hills are present in many sizes, and all outside the central forest; however, cliffs are absent and most of the map is flat.
Viable tactics
[
]
Oasis is a map that offers players the possibility to either perform an early Turtle followed by a Boom, or to Rush early. In team games, this map enables the team to perform Springboard tactics as the pocket players can pay tribute to the players on the flanks and remain safe, while the flank players focus on walling or attacking.
Since the central forest is asymmetrical, players that are fortunate enough to be on the less forested side can chop down these areas areas to reach the central lake that, despite lacking fish, may still provide an extra source of food through Fish Traps and give the player more map control. As sometimes a Relic is generated on the shore of the lake, players may also get it for an extra source of gold. Sometimes, players from opposing teams are able to reach the central lake, and when this happens, a navy may be required in order to defend the center and retain control. However, once players are able to create Onagers, Siege Onagers, Trebuchets or (for the Khmer) Ballista Elephants, they must use them in order to cut a pathway through the center of the map and reach the lake, as doing this may allow for a sneak attack in the late-game.
Scouting is important, as groups of extra herdable animals roam randomly on the map, and they can provide a reliable source of food.
For a Turtle strategy, the player (or players on the flanks in a team game) should prioritize to make a wall on each side of the map, putting special attention on how close the opponents are to each side of the oasis, so they can prioritize one side over the other one. However, as the space outside the central oasis tends to be very open, the player intending to wall must be quick.
Getting control of both the gold and stone can be key for long games on Oasis.
Rushing techniques can work well, and aggressive players on a flank should raid quick their opponents before they enclose into a wall.
Civilizations that have advantages in Oasis:
Civilizations with good defensive bonuses: Byzantines, Incas, Koreans, Teutons, Spanish, Chinese, Mayans, etc.
Civilizations with bonuses regarding herdable animals and shepherds: Britons, Mayans, Tatars, Celts, etc.
Archer-based civilizations: Britons, Mayans, Vietnamese, etc.
Civilizations with bonuses regarding wood collection and lumberjacks: Celts and Burmese for example.
Civilizations with good team bonuses: Berbers, Vietnamese, Cumans, Spanish, etc.
Civilizations enabled to perform as a springboard on Springboard tactics.
Civilizations that may struggle in Oasis:
Civilizations with bad early-game and bad defenses.
Age of Mythology
[
]
Most of the wood lies in 1 to 4 oases in the center. Build walls to the center to stop enemy incursions. -Map description.
This one is somewhat different from Age of Empires II version. Apart from being somewhat more symmetrical, concerning the oasis' forests, the fauna is more varied and of African origin, including Giraffes, Lions and Gazelles, all found in African/Egyptian maps. Also, the central waterhole(s) lack Fish, thus a player is forced to focus more on the desert region, concerning resources.
But most important of all, the Age of Mythology version may include from one to four waterholes. The in-game description correctly recommends to build walls to the center, but it only applies to multiple waterholes, not when there is a single one.
Age of Empires IV

[

]
"
Most trees on the map sit near a small center lake.
"
—Age of Empires IV description
Oasis is a type of random map in Age of Empires IV.
Gallery
[
]