Fire Emblem Warriors: Three Hopes - The Loop
Play Sound
This article needs an image for it to be complete. Please locate and insert one.


See here for a full list of articles needing images.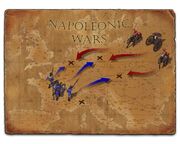 Napoleonic Wars is a historical map released with Age of Empires III: Definitive Edition - Knights of the Mediterranean.
Features
[
]
Objectives
[
]
The game starts with a timer. The player with most captured strategic point win.
Starting conditions
[
]
Teams must train their armies quickly during a short treaty period and fight all over the map to seize each strategic point.
Economic units have stricter construction limits.
A short treaty and many initial resources ensure that each player can train a large army.
Provisioning caches can be used to quickly filter resources.
Advancing to the next Age is faster and freer.
Victory conditions
[
]
Capture all strategic points.
Trivia
[
]
The Napoleonic Wars (1803–1815) were a series of major global conflicts pitting the French Empire and its allies, led by Napoleon I, against a fluctuating array of European states formed into various coalitions. It produced a period of French domination over most of continental Europe. The wars stemmed from the unresolved disputes associated with the French Revolution and the French Revolutionary Wars consisting of the War of the First Coalition (1792-1797) and the War of the Second Coalition (1798–1802). The Napoleonic wars are often described as five conflicts, each termed after the coalition that fought Napoleon: the Third Coalition (1803-1806), the Fourth (1806–1807), the Fifth (1809), the Sixth (1813–1814), and the Seventh (1815) plus the Peninsular War (1807–1814) and the French invasion of Russia (1812).
The Congress of Vienna redrew the borders of Europe and brought a period of relative peace. The wars had profound consequences on global history, including the spread of nationalism and liberalism, the rise of Britain as the world's foremost naval and economic power, the appearance of independence movements in Latin America and subsequent decline of the Spanish and Portuguese Empires, the fundamental reorganization of German and Italian territories into larger states, and the introduction of radically new methods of conducting warfare, as well as civil law. After the end of the Napoleonic Wars there was a period of relative peace in continental Europe, lasting until the Crimean War in 1853.
Gallery
[
]