Raise a Floppa - The Loop
Play Sound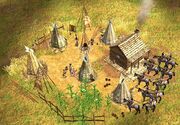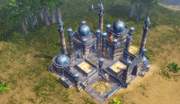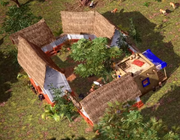 Minor civilizations (also referred to as minor tribes, Natives, or Native allies) feature throughout the campaign scenarios and random maps of Age of Empires III. All playable civilizations can ally with a minor civilization by constructing Trading Posts at settlement sites. Each minor civilization typically offers three technologies to research and access to at least one unique military unit; trained in limited amounts with two unit upgrades.
Players retain access to the minor civilization's technologies and units for as long as the Trading Post is not destroyed. After the release of Age of Empires III: Definitive Edition - The African Royals, there are a total of 28 minor civilizations in normal game and three more exclusive to the campaigns.
Units
[
]
Native units always cost a certain amount of wood, food, and/or coin, but never population. Instead, native units have a build limit which players can increase by allying with further settlements of the same minor civilization.
From The WarChiefs, players can build Native Embassies to train allied minor civilization units at locations beyond the Trading Post site.
Upgrades
[
]
All native units' hit points and damage can be upgraded first in Fortress Age by +25% for 200 wood and 150 coin and a second time by +40% in Industrial Age for 400 wood and 300 coin. The native unit upgrades from Age of Empires III and The WarChiefs are called Elite and Champion while in The Asian Dynasties they are called Disciplined and Honored. In the Imperial Age, players can improve hit points and damage again by researching Legendary Native Warriors in the Capitol for 1,500 food and 1,500 wood.
A wide array of Home City cards can boost native units.
Native mercenaries
[
]
Most civilizations can send native allies from their Home City, which are technically mercenary shipments as they cost Coin. Furthermore, native units sent from Home City have their own build limit, an additional mercenary tag and they are treated by the game as different units. Because of that the visually identical native mercenaries and native units will not simultaneously select when double-clicking one of them. Military unit upgrades in the native settlement still affect both, native mercenaries and native units.
Ships
[
]
Certain ships can be trained from the Dock if the player builds a Trading Post on a minor civilization settlement, which vary depending on the minor civilization allied with:
On Horn and Swahili Coast maps, Bandit Catamarans can be trained from the Dock by default.
List
[
]
While Age of Empires III and The WarChiefs feature Native American settlements, the paradigma changes in The Asian Dynasties to religious communities or Holy Sites (as developer Big Huge Games labels them in the game manual), and later, in Knights of the Mediterranean to European royal houses.
Age of Empires III

[

]
Age of Empires III included the following twelve Native American settlements:
Tribe
Units
Technologies
Maps
Aztecs

(replaced by Zapotecs)

Aztec Eagle Warrior
Aztec Jaguar Warrior
Aztec Initiation
Aztec Chocolate Recipes
Aztec Chinampa
Aztec Garland Wars
Sonora
Yucatan
Carib
Carib Blowgunner
Carib Ambusher*
Carib Kasiri Beer
Carib Garifuna Drums
Carib Ambush Party
Carib Ceremonial Feast
Amazonia
Caribbean
Florida
Hispaniola
Orinoco
Cherokee
Cherokee Rifleman
Settler*
Cherokee War Dance
Sequoyah's Cherokee Syllabary
Cherokee Basket Weaving
Bayou
Carolina
New England
Ozarks
Comanche
Comanche Horse Archer
Comanche Trade Language
Comanche Horse Breeding
Comanche Mustangs
Colorado
Dakota
Great Plains
Ozarks
Rockies
Texas
Cree
Cree Tracker
Cree Coureur des Bois
Cree Tanning
Cree Kinship
Cree Textile Craftsmanship
Dakota
Great Lakes
Saguenay
Yukon
Haudenosaunee

(replaced by Huron)

Haudenosaunee Tomahawk
Haudenosaunee Mantlet
Haudenosaunee Lacrosse
Haudenosaunee League
Haudenosaunee Morning Wars
Great Lakes
New England
Lakota

(replaced by Cheyenne)

Lakota Axe Rider
Lakota Dog Soldier
Lakota Hunting Grounds
Lakota Horse Trading
Lakota Dog Soldiers
Great Lakes
Great Plains
Rockies
Maya
Maya Holcan Spearman
Medicine Man
Maya Cotton Armor
Maya Calendar
Mexico
Orinoco
Sonora
Yucatan
Nootka
Nootka Clubman
Nootka War Chief*
Nootka Bark Clothing
Nootka Potlatch
Loyal Nootka War Chief
Alaska
California
Cascade Range
Northwest Territory
Yukon
Quechua
Quechua Huaminca
Quechua Bolas Warrior
Quechuan Metalworking
Quechuan Diet
Quechuan Mountaineering
Amazonia
Andes
Andes - Upper
Araucania
Gran Chaco
Pampas
Pampas Sierras
Seminole
Seminole Sharktooth Bowman
Seminole Guerilla Wars
Seminole Bowyer
Bayou
Carolina
Florida
Tupi
Tupi Blackwood Archer
Buttercup the Pet Cougar
Tupi Poison Arrow Frogs
Tupi Forest Burning
Tupi Animal Lore
Amazonia
Gran Chaco


Minas Gerais


Orinoco
Pampas
Pampas Sierras
The WarChiefs

[

]
With the introduction of the Aztecs, Haudenosaunee, and Lakota as major civilizations, The WarChiefs removes the Aztecs, Haudenosaunee, and Lakota minor civilizations which are now only present in the campaign:
The Asian Dynasties

[

]
The minor civilizations in The Asian Dynasties differ from those in Age of Empires III and The WarChiefs in that they represent religious movements instead of ethnic groups.
The minor civilizations are:
Definitive Edition

[

]
Age of Empires III: Definitive Edition introduces a single new American minor civilization, the Lenape, which is only available in the Battle of Queenston Heights scenario and the Unknown map.
Tribe
Units
Technologies
Maps
Lenape

Lenape Warrior

Lenape Ceremony

Lenape Clans

Lenape Three Sisters

Unknown
The African Royals

[

]
The minor civilizations introduced in The African Royals offer the largest number of native units and technologies.
Knights of the Mediterranean

[

]
Instead of ethnic groups or religious movements, the minor civilizations introduced in Knights of the Mediterranean represents various royal dynasties in Europe.
Royal House
Units
Technologies
Ability
Maps
House of Bourbon
Royal Musketeer
Royal Dragoon
Royal Horseman*
Bourbon Reforms
Royal Tax
Chouannerie
Maison du Roi
Royal March
Alps
Black Forest
Corsica and Sardinia
France
Italy
Low Countries
Pyrenees
Spain

House of Wittelsbach
Mountain Troopers
Chevaleuger
Oktoberfest
Ducal Berg Lancers
Philhellenism
Schützenfest
Alpine Horns
Alps
Archipelago
Baltic Sea
Black Forest
Bohemia
Italy
Saxony
Scandinavia

House of Oldenburg
Royal Hunstman
Royal Hunter*
Northern Muskeeters
League of Armed Neutrality
Hunting Expeditions
Kalthoff Repeaters
Öresund Customs
Scientific Expeditions
Archipelago
Baltic Sea
Courland
Danish Straits
Dnieper Basin
Eurasian Steppe
Finland
Lithuania
Pripet Marshes
Saxony
Scandinavia

House of Hanover
Black Brunswicker
Totenkorpf Hussar
Drummer
Royal Scots Grey
Royal Card Games
Acts of Union
Victorian Era
Royal Fireworks
Danish Straits
England
Ireland
Low Countries
Saxony
Scotland

House of Phanar
Evzone
Boyar
Sacred Band Infantry**
Armatoloi
Athos Monasteries
Byzantine Legacy
Greek Shipyards
Greek Revolution
Anatolia
Archipelago
Balkan Mountains
Carpathians
Corsica and Sardinia
Dnieper Basin
Italy
Wallachia

House of Jagiellon
Lipka Tatar
Shock Rider
Pancerni
Jagiellonian Legacy
Sarmatism
Folwarks
Balance of Powers
Baltic Sea
Bohemia
Budapest
Carpathians
Courland
Dnieper Basin
Eurasian Steppe
Hungarian Plains
Lithuania
Pripet Marshes
Vistula Basin

House of Vasa
Royal Arquebusier
Winged Hussar
Golden Liberty
Tar Kilns
Koncerz
Hanseatic League
Order of Vasa
Archipelago
Baltic Sea
Courland
Danish Straits
Dnieper Basin
Finland
Lithuania
Pripet Marshes
Scandinavia
Vistula Basin

House of Habsburg
Line Infantry
Mounted Infantry
Magyar Hussar**
Hungarian Grenadier**
Congress of Vienna
Crown Lands
Multinationalism
Austro-Hungarian Empire
Radetzky March
Alps
Balkan Mountains
Black Forest
Bohemia
Budapest
Corsica and Sardinia
Hungarian Plains
Italy
Low Countries
Pyrenees
Spain

House of Wettin
Trabant
Saxon Cuirassier
Leipzig Trade Fair
Königstein
Marriage Politics
Royal Saxon Grenadier
Golden Reiter
Baltic Sea
Bohemia
Carpathians
Low Countries
Saxony
Vistula Basin
Wallachia

* These units are only available after researching technologies that ship or allow them to be trained by Trading Posts or Heroes
** Spawned via a Royal House ability
Trivia
[
]
Near native villages, chattering can be heard. Small dialogues are hidden in the chatter, such as: Man: "The bounty is plentiful" and Little Girl: "Can I go?" Woman: "Let's go darling" Little Girl: "I don't think I can make it mommy" can be heard.
The most diverse random map is Silk Road with five possible minor civilizations. If excluded as a variant of three other maps (Himalayas, Mongolia, and Yellow River) due to its changing environment, the title is shared by Amazonia, Orinoco, and Mexico, with four minor civilizations each.
Deccan is the only Asian map besides Silk Road with more than two minor civilizations.
Excluding the Lenape and the minor civilizations replaced in The WarChiefs, the most exclusive minor civilizations are the Seminole and the Klamath, which are found in three maps each.

The most exclusive Asian minor civilization is the Udasi Temple, found in five maps (two of which, Silk Road and Himalayas - Upper, are variants of other maps).
The most exclusive African minor civilizations are the Yoruba and Somalis, also present in five maps.

The most common minor civilizations are the Sufi Mosque and the Jesuit Mission, each appearing in thirteen maps. They are also the only minor civilizations found in more than one continent (the Jesuits being present in all three), and the only introduced in The Asian Dynasties that are not identified as "temples".

The most common minor civilization that is exclusive to Africa is the Berbers, appearing in nine maps.
The most common that is exclusive to Asia is the Zen Temple, appearing in seven maps.
The most common that is exclusive to America is the Quechua, also appearing in seven maps.