Fire Emblem Warriors: Three Hopes - The Loop
Play Sound
Mediterranean is a Random Map in Age of Empires: Rise of Rome, Age of Empires II and Age of Mythology.
Age of Empires: Rise of Rome

[

]
This map features a sea in its middle, that supports decent numbers of Fish (including Shore Fish) and Whales. Control of this encircled sea is imperative, for two reasons: first, the mainland tends to be more poor than in most other maps, featuring less huntables.
Second, and most important, control of the sea allows players to easily raid enemy positions by using Transports, and thus avoiding traveling around the circumference of the sea.
Age of Empires II

[

]
An inland sea surrounded by land; sounds deceptively peaceful.
Description
[
]
The map features a central sea, encircled by land. What sets it apart from Baltic is the presence of additional herdable animals (usually found in groups of three) scattered around the ring of land, and that the size of the central sea is smaller than on Baltic and tend to be much more asymmetrical, meaning that scouting the land is even more important than on Baltic.
The asymmetry of the sea may means that sometimes one side of the land is much wider than the other one. Bays or gulf are rarely generated on the map, unlike on Baltic.
The start-up for each player is the standard one, with 8 small herdables near (or six Cows) a herd of Deer, 2 Boars and 6 Berry Bushes. Wild predators are absent and Relics are present in standard numbers.
Viable tactics
[
]
Depending on the starting position of the player, and the proximity of chokepoints and the sea, it might or might not be a sound idea to Turtle, but one should keep landing parties away.
Either way, it is once again imperative to control the central sea, as the fish can help to save wood from Farms, and the sea offers an excellent way to save time, by embarking armies with Transport Ships in order to detour the sea's circumference.
As mentioned previously, scouting is key on this map, as there are additional herdable animals scattered in groups that may provide a good source of food.
Strategies that work on Baltic may also work on Mediterranean. Booming and turtle strategies are very effective on Mediterranean if the shape of the sea enables the player to enclose territory. Early land rush standard strategies (infantry, cavalry or archer rushes) may work well, especially if the shape of the central sea makes it difficult for the opponent to wall and defend. Galley rushes and land-to-rush strategies may work as well.
Civilizations with advantages include:
Age of Mythology

[

]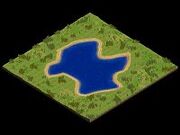 The pastoral countryside surrounding the middle sea supports many herd animals.- Map description.
Mediterranean also features in Age of Mythology as a naval map. A large body of water abundant with Perches and Mahi-mahi lies in the center of the map surrounded by plains. In the center, there might be an islet present, usually featuring lone palms, a Baboon and rarely, a Gold Mine.
There is some wildlife, such as Wild Boars and Deer, to hunt but it will be quickly be depleted. If players do not want to resort to farming too early, they will need to fight for dominance of the sea. Beware of scattered Lions in this land, as they are a threat to passing worker units.
A typical game begins with players engaging in Arrow Ship warfare until one team gains control of the important food source. In the aftermath, the loser or losers will need to manage their resources carefully if they want to win. It takes considerably longer for armies to reach an enemy base as they have to travel around the circumference of the sea.
Gallery
[
]