Fire Emblem Warriors: Three Hopes - The Loop
Play Sound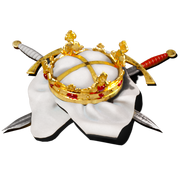 Jadwiga is a campaign in Age of Empires II: Definitive Edition - Dawn of the Dukes that focuses on the young life of Jadwiga (1373 or 1374 – 17 July 1399). Jadwiga was the first female monarch of the Kingdom of Poland, reigning from 16 October 1384 until her death. Jogaila (Grand Duke of Lithuania), who took the baptismal name Władysław, married Jadwiga on 15 February 1386. Legend says that she had agreed to marrying him only after lengthy prayer, seeking divine inspiration. In 1997 she was canonized by the Catholic Church.
Unit
[
]
Jadwiga is a mounted healer hero unit with the unique appearance of a Queen riding a draft horse. She can also convert enemies, making her functionally similar to a Missionary.
Campaign
[
]
"
Sent away from her mother and forcibly parted from the young man whom she loved, Jadwiga ascended to the Polish throne as a mere child. In a time of unending war, she must forge a future for her kingdom while contending with the wills of formidable leaders like Jogaila and Vytautas the Great. Can the beloved Star of the Poles bring about her vision of a powerful, untied Poland-Lithuania, or will the incessant maelstrom of war plunge both realms into ruin once more?
"
—In-game campaign description
The Jadwiga campaign consists of 6 scenarios. The player mainly plays as the Poles, but in Vytautas' Crusade as the Lithuanians, and the player color is red.
The campaign is narrated by Jadwiga herself except for the last scenario, which is narrated by her husband, Jogaila (who is also the narrator of the Algirdas and Kestutis campaign), instead after her death.
Trivia
[
]
Gallery
[
]
Videos
[
]