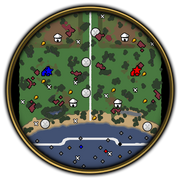 Ivory Coast is one of the new maps in update 43871 for Age of Empires III: Definitive Edition.
Overview
[
]
In this tropical, coastal region, players will find mangrove trees and lagoons along the coast which give way to grassy plains, and eventually an elevated plateau which gives way to the semi-arid Sahel. The Ivory Coast is an important hub for trade: the naval trade route connects Africa with Europe and the Americas, while its counterpart on the mainland connects the coast to the Sahel. The land trade route bisects the plateau in the north, so each team has access to easily defensible resources away from the water. Like many of the coastal regions in this part of Africa, including the Pepper Coast and Gold Coast, this region is named for its chief export: ivory. As such, you will find many large herds of elephants in the coastal grasslands.
Wildlife
[
]
Native Settlements
[
]
There are four native settlements along the central rout.
Treasure Guardians
[
]