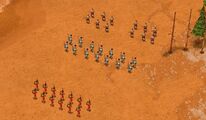 Infantry units fight on the ground in close combat with enemies, distinguishing them from archers and cavalry. Infantrymen are also human units, rather than the superhuman heroes. However, some heroes are dual-classed, being considered both heroes and infantry. Counter-infantry units gain a bonus against all the infantry units listed below.
Atlantean infantry units retain their infantry status when they are upgraded to heroes.
Brief comparison table
Edit
Some details worth mentioning:
Community content is available under
CC-BY-SA
unless otherwise noted.