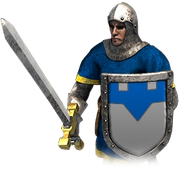 Infantry in Age of Empires II is one of the four combat forces on land, the other ones being archers, cavalry, and siege weapons.
General information
Edit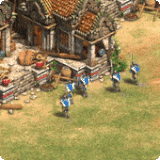 Infantry units are (with a few exceptions) non-ranged foot soldiers, who in general have comparatively low armor and
hit points
and are relatively slow. Weak at first glance, they can be extremely important since they are the cheapest unit branch, are available very early in the game, are created quickly, and usually hold a medium to high attack.
Regular infantry units are trained at the Barracks only. The Militia is the first available unit there and the only military unit available in the Dark Age.
Unique infantry units are trained at the Castle. There are two exceptions: Huskarls can also be trained at the Barracks after researching Anarchy, and Condottieri are only available at the Barracks as a team bonus.

All infantry units cost
food
and
gold
, with the lone exceptions being the
Spearman
line, which costs food and
wood
, and the
Malay
Militia
line (after researching
Forced Levy
), which only costs food.
While inferior in general to archers and cavalry when pitched against each other, infantry units have two advantages: Firstly, their low cost (especially in terms of gold) makes casualties more forgiving and secondly, there is no cheap counter to easily mass against infantry as opposed to archers, which are easily countered with Skirmishers, and cavalry, which are usually countered with Pikemen.
Due to their low speed and no range, most infantry units will struggle against Monks.
Units that excel at battle against infantry include Hand Cannoneers, Cataphracts, Slingers, Teutonic Knights, Jaguar Warriors, and Plumed Archers.
List of infantry units
Edit
Marked with yellow background are unique units.
The following infantry units are only available in the Scenario Editor:
Technologies
Edit
Listed below are all technologies that benefit infantry units. Marked with yellow background are unique technologies. This list does not contain unit upgrades.
Note: Because of their origin as cavalry units, Dismounted Konniks benefit from cavalry armor upgrades instead of infantry.
Civilizations
Edit
A lot of civilizations rely on a strong infantry, the Aztecs, Burmese, Goths, Japanese, Slavs, and Vikings arguably have the strongest infantry of all civilizations.
The Bulgarians, Celts, Incas, Malay, Malians, and Teutons also have very prominent infantry.
The Incas are the only civilization to have access to all infantry units and technologies.
Civilization bonuses
Edit
The following civilizations have bonuses that benefit infantry units:
Team bonuses
Edit
The following civilizations have bonuses that benefit infantry units:
Community content is available under
CC-BY-SA
unless otherwise noted.