Fire Emblem Warriors: Three Hopes - The Loop
Play Sound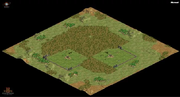 Hideout is a random map introduced in the Age of Empires II HD: The Forgotten.
Description
[
]
Hideout is a random map similar to Arena. It places the forest in the center of the map instead of the outside and with Palisade Walls instead of Stone Walls. Resources lie on the outside of the map with the majority of the wood lying in the center of the map dividing the players. Relics can be found outside the players' walls in normal numbers, as well as wild beasts such as Wolves. Unlike in Arena, players cannot sit behind the safety of their walls until the Castle Age since Palisades have few hit points.
Start-up resources are standard (3-4 Deer, 2 Boars, 8 Sheep or 6 Cows, 6 Berry Bushes, and normal mines of gold and stone). Usually, all the start-up resources are found inside player's palisades, but sometimes, game and sheep may be outside the wall.
Viable tactics
[
]
Players are advised to add an additional layer to their starting walls to prevent a Feudal Age rush. Placing Houses or double layering the walls will work until the early Castle Age when Mangonels and Battering Rams begin to appear. Players should attempt to gain as much map control as possible to prevent their foes from gathering resources from outside their base in the later stages of the game. Boom strategies can be applied like on Arena, but the fragility of the player's base prevents a real boom since the opponent is likely to harass the player. Players should focus on fast Castles or a fast Imperial Age to ramp up as much pressure as possible to prevent their opponent from booming. In the later stages of the game when the main woodline runs thin, it is advisable to build Castles or towers along the woodline to prevent opponents from gathering wood, much like that of Hamburger. Onagers can cut through trees preventing a large trek across the map. Alternatively, performing a turtle may be possible by walling each side of the map; however, the player must still be wary of the forest, as that place can be opened in the later stages of the game.
Archers and Towers are probably the best option for attacking early on this map, as their range enables them to attack from behind the palisades and can prevent their opponents from getting out of their initial settlement. However, infantry may also work well, as Men-at-Arms may destroy palisades with ease. In the Cumans' case, they get access to Battering Rams since the Feudal Age, and they can easily breach the palisades, especially if the opponent is careless.
Civilizations that have advantages in Hideout:
Civilizations that may struggle in Hideout:
Civilizations reliant on early aggression that lack good infantry, archers or siege.
Gameplay video
[
]