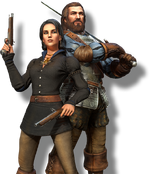 The heroes in Age of Empires III are units with high hit points who can regenerate, have a high attack against Treasure Guardians, have special abilities, can collect treasures, and are good at exploring maps due to their high Line of Sight. In the Definitive Edition, all heroes have a distinct, golden glow that helps tell them apart from common units.
Spies and Ninjas have a multiplier against them. If a hero falls, he will collapse instead of dying and needs to regenerate enough hit points to be rescued by allies. There are two types of heroes: campaign and non-campaign. Not all heroes have the same abilities and capabilities, especially the ones from the campaign.
Skirmish
[
]
In Age of Empires III and its expansions, the Explorer/War Chief/Monk/General/African leaders functions as a hero unit and it cannot be killed. Most heroes can be ransomed, and Native American can be "revived" through a ceremony. They can be improved with some Home City Cards, can detect stealth units, and build Trading Posts and Town Centers.
European heroes
[
]
Explorer: Can be ransomed, have Sharpshooter Attack and Eye of the Assassin special abilities, and can be improved to summon a Hot Air Balloon. The Portuguese Explorer can use the Spyglass ability and others' civilizations' Explorers can get other abilities though Home City Cards.
Explorer Dog: Shipped through the Home City Card that upgrades the Explorer, is available to all European civilizations except the Spanish.
Maltese Grand Master: builds Town Centers, Trading Posts, Gunpowder Depots, Forts and Fixed Guns. If he falls unconscious, he can be rescued
All can be "revived" though a Community Plaza ceremony and recruit human Treasure Guardians.
All can be ransomed and have the Stun special ability.
Sohei Archer: Japanese start with two of them, can build Shrines and has the Smoke Bomb and Divine Strike special abilities, and can be improved to have the passive Dodge ability and the Sabotage special ability at the Monastery.
Shaolin Master: Chinese Monk, starts with the passive Critical Strike ability, can train Disciples, and can be improved at the Monastery to have an aura that increases Disciples' hit points and attack.
American heroes
[
]
General: Can be ransomed, can use the Sharpshooter Attack and Inspire flag special abilities and has the automatic-activated Carbine Attack special ability. Can build Forts.
Padre: builds Cathedrals and Trading Posts. Cannot die. If he falls unconscious, he can be rescued.
African heroes
[
]
Respawn automatically at the Town Center, and have the Fealty aura and the Chaos ability. Despite the different names, they only get different abilities through Homecity shipments.
Simón Bolívar: Can be used as a shipment point, have the Eye of the Assassin and Heavy Strike special abilities, and have an aura that increases the hit points of nearby friendly units. Aditionally, can train Revolutionaries.
Corsair Captain: Can use the Crescent Swing and Lightning Kilij special abilities.
Have the same abilities as the major African heroes, but unlike other heroes, they cannot regenerate.
Campaign
[
]
Original
[
]
Definitive Edition
[
]
Skins
[
]
Introduced with the release of The African Royals, the first skins unlockables for heroes were introduced in time limited events.
| Hero | Skins | Event/Patch |
| --- | --- | --- |
| Ras | Emperor Tewodros | African Royals Event / 38254 |
| Emir | Usman dan Fodio | African Royals Event / 38254 |
| Inca War Chief | Manco Inca, Tupac Amaru | Anniversary Event / 47581 |
| Aztec War Chief | Moctezuma, Tonatiuh | AoE II: DE Celebration Event / 50830 |
| Mexican General | Tulacingo Officer, Calaca | Fiesta Mexicana Event / 54545 |
| United States' General | Uncle Sam, Astronaut | Fiesta Mexicana Event / 54545 |
| Shaolin Master | Lao Chen, Jian Huang | Lunar New Year 2022 Event / 61213 |
| British Explorer | Elisabet Ramsey, Ada Lovelace | International Women's Event / 13.690 |
| Spanish Explorer | Heroic Villager, Flamenco Dancer | Spring Event / 13.4412 |
| Italian Explorer | Vittorio Emanuele II, Venetian Noblewoman, Italian Nun, Roman Centurion | Knights of the Mediterranean Event / 13.9057 |
| Maltese Grand Master | Morgan Black, Knightess Templar, Ghonella Dame, Alain Magnan | Knights of the Mediterranean Event / 13.9057 |
| Lakota War Chief | Chayton Black, Wise Woman, Ogle Tanka Un | Gift of Nature / 13.12327 |
| Haudenosaunee War Chief | Nonahkee, Ká:nien | |