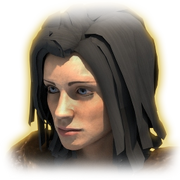 Heroes are special units in Age of Empires II. Unavailable in regular games, heroes typically refer to historical figures. As such, they are often featured in campaign scenarios. There, they are often must-survive units, i.e. their death means instant defeat. With The Conquerors, all heroes are immune to conversion and gain the ability to regenerate hit points. Heroes often have unique icons and sometimes even unique unit designs, and usually have good combat stats, making them very valuable in-game.
In the Definitive Edition, all heroes except the Hunting Wolf and the Mounted Samurai have a distinct, golden glow that helps tell them apart from common units.
Some scenarios contain hero units that only appear once to a few times, and cannot be spawned in the Scenario Editor. An example of such a hero unit is Prince Juan in the scenario The Old World of the Francisco de Almeida campaign.
List of heroes
[
]
The Age of Kings

[

]
The Conquerors

[

]
The Forgotten

[

]
The African Kingdoms

[

]
Rise of the Rajas

[

]
The Last Khans

[

]
Lords of the West

[

]
Dawn of the Dukes

[

]
This article or section documents upcoming content.
Article may contain inaccuracies or speculation, with values that are subject to change as information is updated. Please remove this template when the content has gone live.
Trivia
[
]
The golden glow is also present on one non-heroic unit: the Khan.
Gallery
[
]