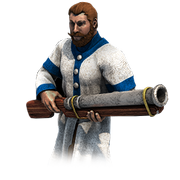 Gunpowder units
are a ranged unit type that use gunpowder to fire projectiles instead of using traditional arrow-based weaponry. In
Age of Empires II
, such units are powerful and only available in later
Ages
. In
Age of Empires III
, they function as the primary ranged-type unit for European civilizations.
Age of Empires II Edit

Gunpowder units first become available in the
Imperial Age
. To train any non-
unique
gunpowder unit,
Chemistry
must first be researched at the
University
. However, Janissaries, Conquistadors, Organ Guns, and Turtle Ships - unique units to each of their respective civilizations - can be trained in the
Castle Age
without the need to research Chemistry.
The Portuguese, Spanish, and Turks have the best gunpowder units thanks to their bonuses, unique units, and unique technologies. The Italians and Indians are also strong gunpowder civilizations.
The Aztecs, Cumans, Huns, Incas, and Mayans cannot train gunpowder units.
The full list of all gunpowder units in the game:
Marked with yellow background are unique units.
Despite not being a unit, the Bombard Tower is usually listed among gunpowder-type units.
Age of Empires III Edit
In Age of Empires III, the gunpowder units are very common since the game covers the periods that include the Age of Discovery through to the early Industrial Age. Arquebuses, muskets, and pistols had become standard weapons of the period and almost all civilizations have at least one unit that uses some sort of gunpowder weapon, with the exception of the Aztecs.
The game makes a distinction between infantry and cavalry using gunpowder weapons; the former are categorized under the Gunpowder Unit tag (AbstractGunpowderTrooper in the game files), while the latter are categorized under the Gunpowder Cavalry tag (AbstractGunpowderCavalry in the game files).
Community content is available under
CC-BY-SA
unless otherwise noted.