Fire Emblem Warriors: Three Hopes - The Loop
Play Sound
Genghis Khan, also spelled Chinggis Khan (c. 1162 – August 18, 1227), was the founder of the Mongol Empire, which was the largest in the Middle Ages and of all time up till that point. The conquests of Genghis Khan and his son Ogedei form the basis of the Mongol campaign in Age of Empires II.
Unit
[
]
Genghis Khan is a cavalry archer hero available only in the Scenario Editor and the Crucible scenario of his campaign, where he cannot be controlled by the player. Genghis Khan is portrayed as a Mangudai, albeit with higher armor, attack and health. He is one of the strongest heroes in the game. As a hero, he cannot be converted and can regenerate health (since The Conquerors).
Campaign
[
]
"
The nomadic tribes of the Asian steppes spent centuries entangled in their own petty feuds until united under Genghis Khan. Within years, a highly disciplined army pours out of Mongolia to embark on a campaign of world conquest. But how can a tribe of horse archers possibly overcome the military might of Persia and Eastern Europe, let alone the technologically advanced empires in China?
"
—In-game campaign description
The Genghis Khan campaign consists of 6 scenarios. The player plays as the Mongols, and the player color is orange.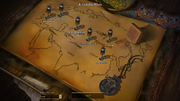 The campaign is narrated by the anonymous author of The Secret History of the Mongols, the main primary Mongolian source in the life of Genghis Khan and the history of the Mongols before and during his reign.
Trivia
[
]
Gallery
[
]
Video
[
]