Fire Emblem Warriors: Three Hopes - The Loop
Play Sound
"
A walled city with gates and all the buildings you need to build up your forces quickly.
"
—Map description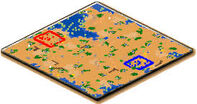 Fortress is a random map in Age of Empires II.
Description
[
]
The startup is very different to most maps. Every player has a starting base that is completely surrounded by Stone Walls, giving the player protection against early enemy raids; the player is also given a couple of buildings: 5 Farms, 4 Watch Towers (spread along parts of the wall), 4 Houses, and a Barracks, Since update 36202, each player also starts with a Castle, even in random game settings. The Towers are almost always placed the same way for all players, which means one might have Towers protecting their front Walls, while another player might be stuck with Towers protecting nothing but the edge of the map. Players also start with no herdables around, and no passive huntable animals (Deer), but the 2 initial aggressive huntables (Boars) are present, as well as the Berry Bushes.
On "Ludicrous" sized maps, all buildings except for the Castle, walls and towers are further enclosed by a ring of forest, through which they have to chop through before they can even access their gold and stone resources.
Most of the time, the map lacks any body of water, but sometimes, lakes generate near a player's base. Gold and Stone Mines are average, and small pockets of forests are spread all around the map. Lone wild predators are present and scattered all around the map and outside the player's bases, and the number of Relics is standard.
It has the in-game map tags "Land" and "Closed".
Viable tactics
[
]
Tactics that work well on Arena tend to work well for Fortress too. Since each player starts the game already protected by walls and towers, standard early game rushes are not viable like in open maps; however, since the players may be forced to go outside in order to take more resources, skirmishes against those camps may be an effective way to put pressure on the opponent. In the middle and late game, aggressive players must extensively use siege units in order to penetrate the defenses of their opponents. Castle drops also work well for an offensive playstyle on this map.
Most players may employ a booming strategy in early to middle game and then attack their enemies. Reinforcing the already strong initial fortification may help in a standard game match with Relic and Wonder Victory. In team games, springboard tactics are common place.
Civilizations that have advantages in Fortress:
Civilizations that may struggle in Fortress: