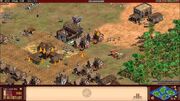 Enemy Archipelago is a special random map introduced in Age of Empires II HD: The African Kingdoms.
Overview
Edit
The map has 1 island for every two players, up to 4 islands. The teams are split up to one player per island, so the islands consists of two enemies. In this way, this map is similar to the Islands map, where players begin on their own, not sharing an island with players from their team.
However, this map is also similar to Team Islands, as there are less islands than in Islands or Archipelago, and these islands are directly proportional to the number of players in-game. Still, the way players start is essentially the inverse of Team Islands, as players don't share an island with their teammates, but with one of their enemies.
The water is teeming with Dolphins, Tuna, and Marlins, with plenty of Shore Fish as well. The Islands have 2~3 medium-sized forests but the rest of the resources remain standard. Players fight one another in near 1v1 fashion.