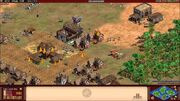 Enemy Archipelago is a special random map introduced in Age of Empires II HD: The African Kingdoms. The map is a hybrid of the Archipelago and Team Islands maps, with the exception that each player shares a portion of an island with an opposing player on the other side of the island.
Overview
[
]
The map has 1 island for every two players, up to 4 islands. The teams are split up to one player per island, so the islands consists of two enemies. In this way, this map is similar to the Islands map, where players begin on their own, not sharing an island with players from their team.
However, this map is also similar to Team Islands, as there are less islands than in Islands or Archipelago, and these islands are directly proportional to the number of players in-game. Still, the way players start is essentially the inverse of Team Islands, as players don't share an island with their teammates, but with one of their enemies.
The water is teeming with Dolphins, Tuna, and Marlins, with plenty of Shore Fish as well. The Islands have 2~3 medium-sized forests but the rest of the resources remain standard. Players fight one another in near 1v1 fashion.
Viable tactics
[
]
Unlike most maps, where players must compete for resources all around the map, players must also fiercely compete for territory to gain a monopoly of the the entire island for survival, lest they face a shortage of land that will inevitably grant an enormous economic advantage to their foes.
Like the Archipelago map, early standard land rushes (such as infantry, cavalry, or archer rushes) are viable strategies and should be used to wrest control of the entire island. An early well-coordinated rush can displace an enemy player and secure a friendly base within enemy territory, allowing the rushing player to use the resources from the other island, effectively adding to their resource stockpiles.
Due to the existence of key waterways for trade, controlling the water is very important in Enemy Archipelago. Imposing a naval blockade on any allied territory near the enemy will prove to be useful once the player has wrestled control of their own island. Alternatively, the counter-attacking player defending an ally from a rush can establish several forward military buildings near choke points if there exists one to forestall invasion.
As such, defending and turtling on Archipelago are viable tactics, especially for civilizations with good towers. Booming is also possible, but it may require the player to first perform a turtle and place buildings near the shoreline for getting sight and preventing unexpected enemy landings.
Trash wars are a common recurring theme in long games on this map, as island maps have less resources available (aside from food), and they can be depleted more easily than on a land setting.
Civilizations with advantages here include:
Civilizations that may struggle:
Gallery
[
]