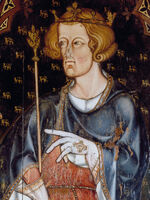 Edward Longshanks is a campaign in Age of Empires II: Definitive Edition - Lords of the West, based on the exploits of Edward Longshanks/Edward I of England (also called Hammer of the Scots) (17/18 June 1239 – 7 July 1307). He was a British King who lead a shattered England to new heights of prestige and fortitude.

Edward Longshanks is a cavalry hero.
"
A bitter hostage of rebel barons, Edward Longshanks vows to reclaim his birthright and lead a shattered England to unprecedented heights of prestige and fortitude. A shrewd commander and cunning politician, his merciless methods are effective yet amoral. Follow him as his thirst for power and glory takes him throughout England, Wales, Scotland, and even on Crusade!
"
—In-game campaign description
The Edward Longshanks campaign consists of 5 scenarios. The player plays as the Britons, and the player color is red.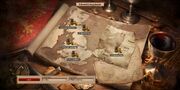 The campaign is narrated by the son and successor of Longshanks, Edward II of England.
Community content is available under
CC-BY-SA
unless otherwise noted.