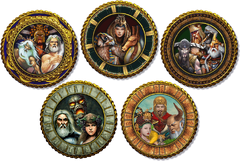 There are three original
civilizations
(also known as
cultures
to avoid confusion with the
major gods
) in
Age of Mythology
. Two more civilizations have been added with the
The Titans
and
Tale of the Dragon
expansion packs. Each civilization had different abilities and bonuses in certain areas and there are no copied models in the game (i.e. each civilization has its own models).
The Greeks are the starting faction in the Age of Mythology campaign and are the easiest to get used to using as they are most similar to the factions of other Age of Empires games. They have very powerful and unique Heroes from their myths which are strong and immune to several Myth unit special attacks. A Greek player can only have four heroes present on the map at a time.
The basic Villager builds and gathers resources as well as worshiping at a Temple to gain the favor of the gods.
Military
Edit
Greek soldiers are stronger but more expensive than those of other civilizations.
Society is led by heroes.
Gain favor by assigning Villagers to worship at a constructed Temple.
Egyptians
Edit
The Egyptians are played in the second phase of the campaign. Egyptians have the advantage of mobile, non-mythic healing through their Priests and Pharaohs.
Basic Villager unit builds and gathers resources. The drop-off point buildings, as well as other non-military buildings, are free. Buildings that are not free cost gold instead of wood.
Military
Edit
Two types of non-siege military units, trained from Barracks and Migdol Strongholds. Barracks units are cheap but weak, while Migdol units are more expensive but a lot more effective. Make use of exotic animals such as Camels and Elephants as well as Chariots.
The Pharaoh is in charge of Egypt. He can heal, attack monsters from a distance, and visit buildings to empower them, increasing their work and firing rate.
Gain favor by building Monuments. There are five Monuments each more expensive than the last.
The Norse are an aberration from other Age of Mythology civilizations and can take some getting used to. Their emphasis on mobility and offense is truly in the Viking spirit.
The Norse have two kinds of Villagers: Gatherers and Dwarves. Dwarves are very good at mining but not as good as gatherers at other tasks. Ox Carts serve as portable drop points for resources. Buildings are built by infantry instead of Villagers.
Military
Edit
Norse units are strong offensively, but weak on defense. Because infantry construct buildings, Norse can quickly build a forward base or occupy enemy territory without bringing vulnerable civilians into dangerous places.
The Norse are led by Thanes, Hersirs, and Jarls. Hersirs are full heroes while Jarls are powerful cavalry with a bonus against myth units. Thanes are not featured as units.
Gain favor by killing enemies, with heroes earning more favor than regular units. This makes favor gain somewhat unreliable, so use it wisely. Hersirs generate favor too, so it's good to have a good amount of them.
Atlanteans (The Titans) Edit
The Atlanteans are technologically advanced. Their units, both military and civilian, are powerful but expensive.
Atlantean Villagers, Citizens, don't need to return to a building to drop off resources and are far more effective at gathering. However, each unit is more expensive.
Military
Edit
Advanced technology backed up with powerful myth units. Human soldiers can be upgraded to Hero status making them more powerful and effective against myth units.
The Atlanean leader is the theocrat. At the time of the campaign, the Atlantean theocrat is Krios.
Worship the Titans, defeated long ago in the Titanomachy by Zeus and other gods. Their major gods are Kronos, Oranos, and Gaia. Favor is gained by building Town Centers to spread Atlantean influence.
Chinese (Tale of the Dragon) Edit
Chinese Peasants do not have multiple drop sites like their Greek and Egyptian counterparts, they use Storage Pit as a drop site for all resource types.
Military
Edit
Chinese, unlike other civilizations, have only one infantry, Halberdier. Their mostly used archer unit is Chu Ko Nu, but other types of archers are also available.
The Emperor is the leader of the Chinese.
Chinese gain favor by building Gardens. They can generate every type of resource including favor. Only ten Gardens can be built.
Community content is available under
CC-BY-SA
unless otherwise noted.