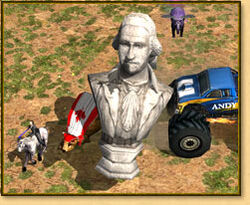 All the available cheats in Age of Empires III are listed here. To enter a cheat codes, press "Enter", while in a game to activate the chat box. Then type the following cheat codes to gain the effect listed immediately after the code is entered.
Age of Empires III
 

| Code | Description |
| --- | --- |
| a recent study indicated that 100% of herdables are obese | Fattens all the animals on the map, generating more Food from them (also helps opponents). |
| Give me liberty or give me coin | Adds 10,000 coin |
| Medium Rare Please | Adds 10,000 food |
| <censored> | Adds 10,000 wood |
| Nova & Orion | Gives 10,000 experience points |
| X marks the spot | Reveals the map, keeping the fog of war effect. Repeating it will not show progress on buildings that were there/under construction. |
| tuck tuck tuck | Spawns The Tommynator monster truck. |
| ya gotta make do with what ya got | Spawns a Mediocre Bombard, a powerful artillery unit that fires Capybara. |
| sooo good | Comical text appears regarding unit and building kills - for example, an Imperial Redcoat who kills a purple Settler will yield a purple text "Imperial Redcoat'ed!" on the screen. |
| speed always wins | Increases build, research, shipment, and gather rates by 100 times for all players |
| this is too hard | Automatically win a single player game. |
| where's that axe? | Spawns George Crushington. |
| a whole lot of love | Adds 10,000 to each of all available resources |
| o Canada 2005 | Spawns a Lazerbear. |
| don't kick the pitbull | Spawns a Learicorn.  |
| we <3 fluffy!1! | Spawns Fluffy. |
| wuv woo vol.2 | Spawns a Flying Purple Tapir.  |
| wee ooh wee ooh | Spawns a BigAndy monster truck. |
Trivia
The "sooo good" cheat is a reference to the Homestar Runner sub-series "Teen Girl Squad", in which a similar "[noun]'d" occurs whenever one of the girls is killed. In addition, "Sooo good!" is the girls' catchphrase.
Community content is available under
CC-BY-SA
unless otherwise noted.