Raise a Floppa - The Loop
Play Sound
Central America is one of the revolutionary nations in Age of Empires III: Definitive Edition, unique to the Mexicans and available at the Commerce Age.
Revolting to Central America costs 400 food, 400 wood, 400 coin.
Effects
[
]
Home City Cards
[
]
Click for a list of Central American Home City Cards
Purple: Shipment that can be sent an INFINITE number of times
Blue: Shipments that arrive fast
Shipments that will be retained upon returning to Mexico are denoted by an underlined name.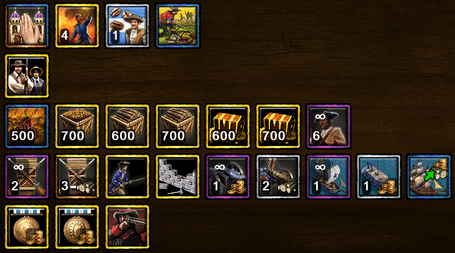 Card
Description
Our Lady of the Assumption
Cathedral experience generation rate +100% and build limit +1; Ships 1

Cathedral Wagon

Santamaria's Fire
Ships 4 Soldados; Receive a Petard with every Home City shipment including this one
Salvadoran Coffee
Ships 1 Settler for every Home City shipment that has been sent including this one
Catrachos
Settlers turn into Revolutionaries when killed
Pioneers
Villagers get +65% hit points
Chipotle Tactics
Receive food when an enemy or own building is destroyed equal to 20% ~ 40% of its total cost; Ships 500 food
Crates of 700 Food
Ships 700 food
Cords of 600 Wood
Ships 600 wood
Cords of 700 Wood
Ships 700 wood
Chests of 600 Coin
Ships 600 coin
Chests of 700 Coin
Ships 700 coin
4 Settlers
Ships 4 Settlers
6 Revolutionaries
Ships 6 Revolutionaries
Advanced Frontier Defense
Upgrades Outposts to Frontier (if not already); Ships 3 Outpost Wagons
Frontier Defenses
Ships 2 Outpost Wagons
Town Militia
Town Centers get +50% attack and can use Town Militia
Improved Buildings
Buildings get +40% hit points
1 Falconet
Ships 1 Falconet; Costs 100 coin
2 Culverins
Ships 2 Culverins
1 Sloop
Ships 1 Sloop
1 Ironclad
Ships 1 Ironclad; Costs 500 coin
Tehuantepec Route
Sells all warships, returning the resources spent to train them
Central American Infantry
Upgrades Insurgentes, Soldados, and Salteadores to Veteran (if not already); Costs 500 wood, 500 coin
Central American Cavalry
Upgrades Chinacos to Veteran (if not already); Dragoons available at Stable; Costs 500 wood, 500 coin
Assassins
Upgrades Spies to Assassins with +100% attack and +5.0× multiplier against heroes and mercenaries
Trivia
[
]
The Federal Republic of Central America (1823-1841) is available to Mexico because Guatemala, El Salvador, Honduras, Nicaragua and Costa Rica were part of the first Mexican Empire (1821-1823) under the rule of Agustin de Iturbide, and then at the dissolution, they created their own federation.
Chiapas formed part of the Republic of Central America, but returned later to the Mexican federation.
While the Federal Republic was dissolved, the countries of the region formed a military coalition to defeat an invasion in 1856-1857 by William Walker, the leader of the other revolution option in the Commerce Age.