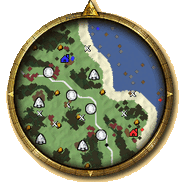 Carolina is a map in Age of Empires III.
Carolina is a map generated along the shoreline of what is now North and South Carolina, it features several Trade Routes and Cherokee or Seminole native populations. There are two versions, the normal and the Large Carolina, which features even vaster spaces, as well as more resources and Treasures.
This map is also used in the first scenario in Act II: Ice, where the colony of Brunswick is featured.
This map is unique because of the abundant starting resources. Carolina features a central Trade Route that divides the map into two sections, the first being the eastern one, with average resources, close to the ocean. The other, the western one, is a dense forestland with more abundant resources.
The central Trade Route features four Trading Post sites. In addition, two Cherokee village are always guaranteed to be found on the map - occasionally, a Seminole village or two can also be found. The two Cherokee villages are somewhat near the trading route - the Seminole, if any appear, will have a village either deep in the woods. However, if a second Seminole village is generated, it is often found on the middle of the coastline.
The map can occasionally generate a tiny island, which may contain some resource crates - however, few buildings can be built on it.
Players will start close to the ocean, but in larger games, they may start further away. A player who has naval dominance can overwhelm any enemy settlements near the shore with consistent shelling by Monitors. However, building near the shore also limits the direction of enemy attacks.
Resources
Outlaws
Treasure Guardians
There can occasionally be small island found in the ocean with cords of wood, chest of coin, or crates of food. However, it is too small to set up a colony.
"
From the Smoky and Blue Ridge mountains in the west, to the Piedmont grassland plateaus of the midlands, to the coastal plains of the east, the Carolinas support a wide variety of plant and animal life. There are wetland marshes, hardwood forests, and piney mountain slopes. South Carolina is called the Palmetto State, after the Palmetto tree that flourishes along the coast. Other common trees are the long-leaf pine, which provided many of the region's early economic wealth, turpentine, resin, and timber.

The earliest known European settlement of the Carolinas was by the Spanish in 1526. It was followed by a French Huguenot settlement and further Spanish mission settlements radiating up from Florida. In the middle of the seventeenth century, England began to make more aggressive claims to the area; and by the end of the seventeenth century, the area was thoroughly British. North and South Carolina, like other royal colonies, joined the American Revolution in response to the Stamp Act and the Townshend Acts. Plantations worked by African and Native American slaves produced rice, indigo, cotton, and especially tobacco.
"
Community content is available under
CC-BY-SA
unless otherwise noted.