Barracks
are the earliest military building available in
Age of Empires
and allow players to train infantry units for combat. The Barracks is also the prerequisite for building later military buildings such as, the
Archery Range
,
Siege Workshop
,
Stable
, and
Academy
.
Upgrades
Edit
Researching Architecture from the Government Center increases the Barracks' hit points up to 420 and decreases its building time.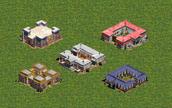 Civilization Bonuses
Edit
Macedonian units are four times more resistant to conversion.
Roman buildings costs 15% less resources to build.
Technologies Available
Edit
Note: Legion requires Fanaticism to become enabled