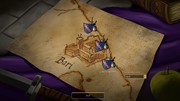 The Bari campaign in Age of Empires II HD: The Forgotten consists of three scenarios depicting a few historical events of its namesake, the Italian city of Bari. The campaign is centred around a fictional Greek Nautikos family, where the surname "Nautikos" shows that the ancestors were sailors.
Andreas Nautikos is the narrator of the story, narrating the stories of the first and second scenarios as told by his father, Michael Nautikos. The main protagonist of the first scenario, Panos Nautikos, is the great-grandfather of Andreas, and the grandfather of Michael.
Scenario
Edit
The Bari campaign consists of 3 scenarios. The player plays as the Byzantines, and the player color is blue.
Arrival at Bari (Panos Nautikos)
The Rebellion of Melus (Michael Nautikos)
The Great Siege (Andreas Nautikos)
All the three main characters of the campaign are technically renamed versions of La Hire.
Community content is available under
CC-BY-SA
unless otherwise noted.