The
Archery Range
is a military building in
Age of Empires
, first available in the
Tool Age
. At first, only basic
Bowmen
can be created, but later,
Elephant Archers
and
Heavy Horse Archers
can be created here to devastating effect.
Chariot Archers
come available once
Wheel
has been upgraded at
Market
. Building a market is also a prerequisite of building a Government Center and a Temple in the
Bronze Age
.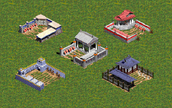 Community content is available under
CC-BY-SA
unless otherwise noted.