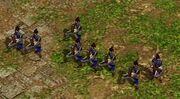 Archer units are military units that fight on foot but use missile weapons to fight their enemies at a distance. This distinguishes them from infantry and cavalry units.
Archers are also human units, rather than the superhuman heroes or monstrous myth units. The units below are also considered archers because counter-archer units have an attack bonus against them and they benefit from Archer upgrades (i.e. Medium Archers etc.,) - though this is not true of the Atlantean heroes.
There are also a few units that, while mounted, are considered archers rather than cavalrymen as they fulfill the above criteria. The Norse do not have any archer units. Note: This is no longer the case in the Tale of the Dragon expansion, as the Norse were given a single archer unit, the Bogsveigir.
Atlantean archer units retain their archer status when they are upgraded to heroes.
Brief comparison table
Edit
Some non-archer units were added for comparison purposes.
Peltasts, Slingers and Turmas have +300% attack vs all Archers and +100% or +200% attack vs Throwing Axemen.
Slingers also have +25% bonus against Axemen and Hypaspists.
Mounted Archers have +25% attack against cavalry.
Toxotes, Arcus and Chu Ko Nu have -10% attack vs Raiding Cavalry.
Community content is available under
CC-BY-SA
unless otherwise noted.